Teens entering grades 7-12 are encouraged to join us for a summer of exciting programs. From video games to fine art, we've got something fun for everyone! Teens can read their way through our summer reading club and enter to win weekly prizes. Pick up your summer reading club bag at the front desk. Registration is required for all programs and begins June 25th. All programs are FREE and open to Westbury and Carle Place residents.
Helpful Summer Reading Links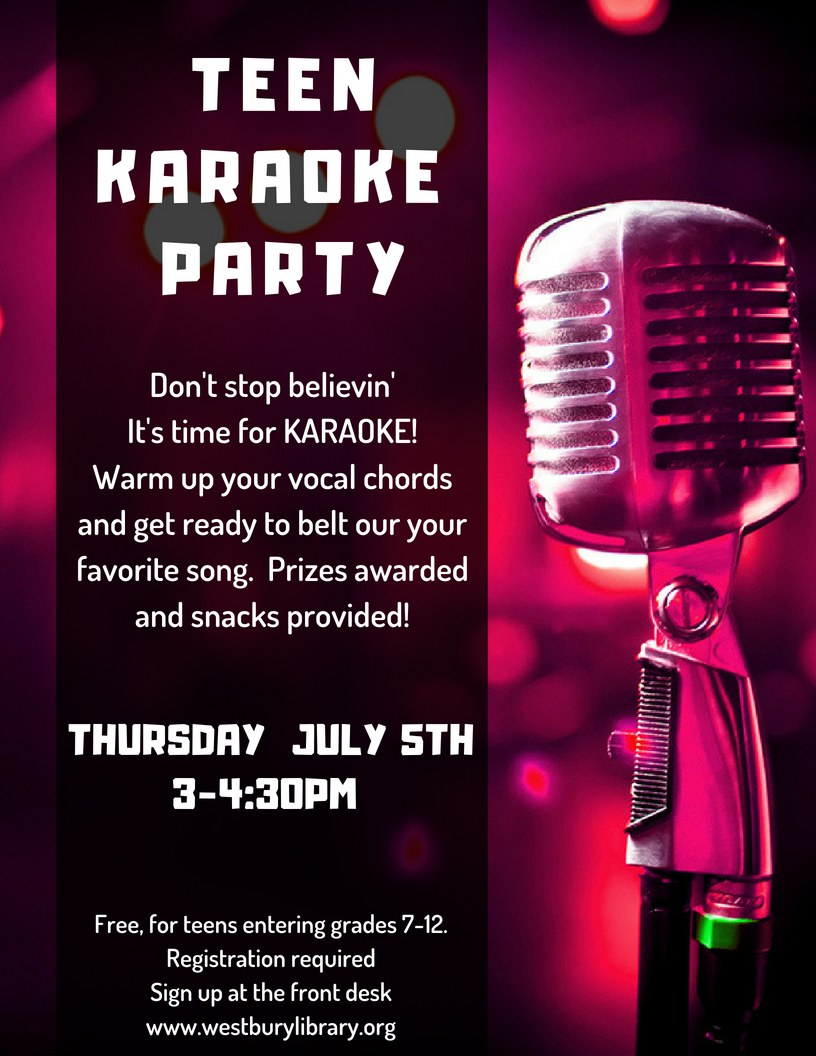 Teen Karaoke Party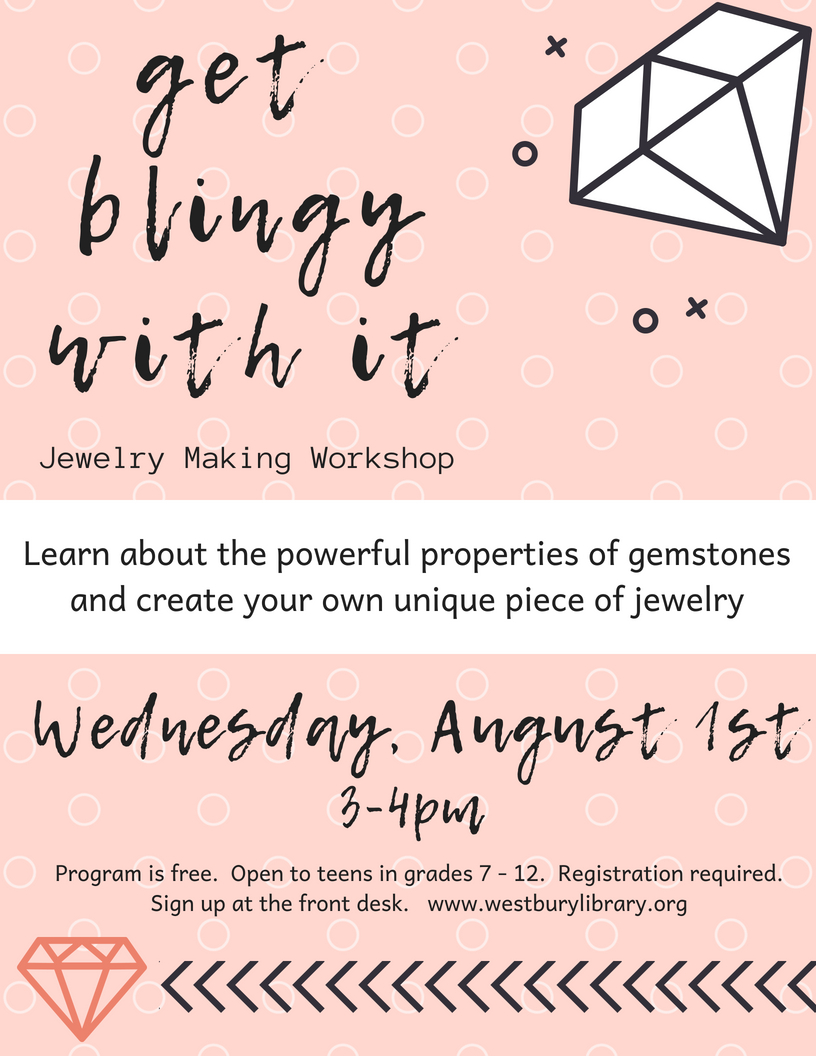 Jewelry Making Workshop
Register to create your own jewelry.
Game Truck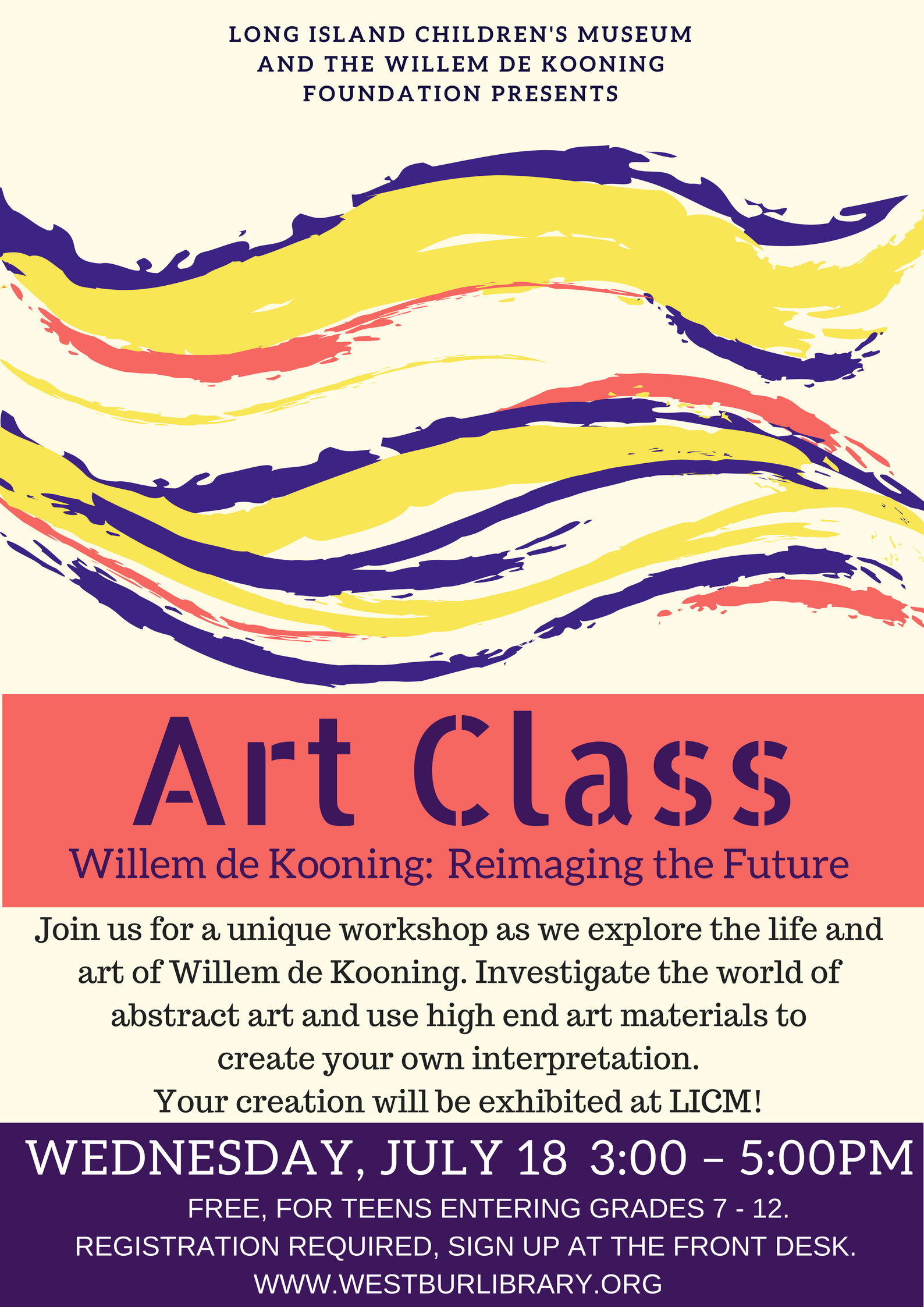 Willem de Kooning: Reimaging the Future
Presented by the LICM and the Willem de Kooning Foundation.
Breakout!
Music Note Pretzels
Upcoming Events & Programs
Note: Photographs and video taken during events may be used for library publicity.
Libraries Rock! Summer Reading Club
Read! Review! Win!
Here's how it works: Read a book. Review it. You can submit reviews online, via Instagram or good ole pen and paper. Review two or more books and gain entry into our Summer Reading Party featuring video games, pizza, cake and PRIZES GALORE!
Or: Attend one program and read and review one book and you can attend the party.
How to submit your Instagram Review: Take a picture of the book you are reading. Write a short review. Include: Your rating (out of 5 stars), what you liked about the book, your favorite character, and why. Make sure you tag your review @westburyteenzone
Keep it old school: Review forms are available at the front desk.
Weekly prizes will be awarded, so make sure to submit your reviews every week!
Teen Karaoke Party
Thursday, July 5, 3:00-4:30
Don't Stop Believin'… It's time for a Teen Karaoke Party! Warm up your vocal chords and get ready to belt out your favorite song. Prizes will be awarded and snacks provided!
Game Truck
Wednesday, July 11, 3:00-4:30
Step inside The Game Truck and make all your gaming dreams come true! The Game Truck is loaded with video game consoles and a massive library of video games. It's the ultimate video game party!
Art Class with Long Island Children's Museum – Willem de Kooning: Reimaging the Future
Wednesday, July 18, 3:00-5:00
Join us for a unique workshop as we explore the life and arm of Willem de Kooning. Investigate the world of abstract art and use high end art materials to create your own interpretation. Your creation will be exhibited at LICM!
Breakout! This Escape
Wednesday, July 25, 3:00-4:00
The Room style program will have you working in teams to solve puzzles and crack the code to open a locked box. Do you have what it takes to BREAKOUT?
Get Blingy with It!
Wednesday, August 1, 3:00-4:00
Tailfeathers Designs creator Liat Cohen will teach you about the powerful properties of gemstones and help you create your own unique piece of jewelry.
Music Note Pretzels
Wednesday, August 8, 3:00-4:30
Make your own pretzel dough, shape it into a music note, and then dig into your tasty creation!
Summer Reading Club Party
Thursday, August 16, 5:00-6:00
If you've read two or more books this summer, you're invited to our end of summer celebration. Pizza, Prizes, and FUN!