Thank you to everyone who voted! Our library budget was passed! For more information on the budget, click here.
read more
"The novel is partly set in the small Irish town of Carricklea. Sixteen-year-olds Marianne and Connell attend the same school but are worlds apart socially and financially. Marianne is plump, uncool and unliked. She comes from a well-off family, which isolates her from her blue-collar classmates. The star of the football team, Connell, is a slightly aloof, decent, sweetly unassuming guy who picks his mother up from her cleaning job.
A clandestine affair starts between the two, but at school Connell barely acknowledges Marianne. Marianne is treated badly at home, too, where she is ignored by her widowed mother and bullied by her brother. Connell's casual cruelty evokes all the insecurities of teen life, of fitting in and worrying about what people think. It sets a precedent: Marianne longs for Connell's love, and he appears unable to give it. The complex relationship between the two—their incredible closeness and dysfunction—is masterfully done.
Both Marianne and Connell receive academic scholarships to Trinity College in Dublin, and over the years, their lives bisect and cross. Marianne becomes popular, while Connell becomes introverted and distant. They become best friends, relying on each other's counsel as they both enter into new relationships. But there is also a fractious, complicated longing that neither seems to know how to handle. Marianne's bad choices in boyfriends—bullies and emotional abusers—only put Connell's qualities in sharp relief. But he, too, is suffering. Depression sees him visiting a therapist and scuppers his relationship with a college girlfriend."
"A Wonderful Stroke of Luck, Ben's adolescent angst and ensuing quarter-life crisis is riven with hope and humor.
The story begins when the bucolic bubble encompassing Ben's posh New Hampshire boarding school is burst by news of the 9/11 terrorist attacks, propelling the students further into the thrall of their Svengali-like teacher Pierre LaVerdere, whose role as their charismatic mentor and in loco parentis is solidified.
Beattie's novel moves from the abrupt conclusion of Ben and his friends' boarding school days straight into young adulthood, giving only a cursory mention of their college days. Wealthy and smart, Ben and company were admitted to the likes of Cornell and Stanford, but their elite pedigrees have not prepared them for the indignities of the early aughts. Struggling to hold a steady job and even harder to maintain a relationship, Ben pivots between his devotion to a sex-crazed narcissist and his obsession with an old boarding school crush.
When Ben escapes Manhattan and buys a house in the Hudson Valley's idyllic Rhinebeck, he finds a kind of family in the warm embrace of his new neighbors, Steve, Ginny and their young daughter, Maude. Beattie's belief in Ben's inherent decency is most evident in these passages, as our brooding antihero discovers friendship, camaraderie and a sense of belonging. Alas, without spoiling the ending, LaVerdere arrives back on the scene, delivering a shocking revelation that brings Ben—and readers—into the heart of Beattie's postmodernist Greek tragedy, where the luck of these self-absorbed scions of the so-called "1 percent" is not nearly as wonderful as one might think."
"The initial phone call was a surprise. "Is this the restaurant critic of the New York Times?" a British voice asked. Ruth Reichl confirmed her identity, but the name of her caller meant nothing to her: James Truman, editorial director of magazine publishing company Condé Nast, was calling about Gourmet. The magazine had introduced an 8-year-old Reichl to the magic of food and its influence on the world. But she couldn't imagine why Truman was calling.
That phone call ultimately led Reichl to a role she'd never dreamed of: editor-in-chief of Gourmet magazine. Truman's name was the first of many things she had to learn. During Reichl's first visit to the office, an editor gushed that she's great at the "teeosee." Reichl, whose background was in newspapers, didn't realize the editor was talking about the TOC, or table of contents.
Save Me the Plums, Reichl's memoir about her years at Gourmet, is filled with such endearing, revealing moments. Although she considered herself a writer, not a manager, Reichl reimagines the magazine that captured her youthful imagination. Alongside her talented staff, Reichl took the publication from a staid magazine that delivered the luxury readers expected (and no more) to a sometimes scintillating examination of not only food but also its impact."
"Early in her life, Ayaana's compass is set when her mother tells another character, "You shall only point my daughter to eternal possibilities. She was not born for limits." From her childhood on Pate Island to her adventures in the Far East as a charming young woman, Ayaana's life is marked by both violence and great beauty. Assorted characters alter her destiny, from a sailor who fills the role of the father she's always wanted to a powerful Turkish mogul who seeks to possess her soul.
The story is deftly interwoven with a sense of life's fragility, as if it's holding its breath in anticipation of some danger. This feeling of vulnerability assails Ayaana: "Life was passage, nothing lingered." Jealousies and troubled kinships affect husbands, fathers and lovers who travel on the ocean tides and are often lost, swept away by storms or twists of fate, but the author brings the story full circle with passages that dazzle and enlighten.
The singular culture of the haenyeo (sea women) of the Korean island of Jeju is at the center of bestselling author Lisa See's captivating new novel, The Island of Sea Women, a quietly amazing story of two close companions whose friendship is transformed by misunderstanding, cultural prejudice and the terror of war.
Young-sook and Mi-ja are part of Jeju's female free-diving collective, which forms the economic backbone of the island community in the years leading up to World War II. The friends are bound by ancient female spirits that watch over the island, and by the age-old ties of cooperation that enable their community's survival. See interweaves details of the island's semi-matriarchal culture with the adventures and travails of the two women, whose differences grow throughout the decades. Poignant chapters reveal the perspective of an aging Young-sook as she encounters the family of her old friend, forcing her to confront past missteps and the horrors of a 60-year-old massacre, ultimately bringing the generations together to forgive and heal.
Within this enthralling story is a fascinating historical perspective on Korea, a country long victimized by war and foreign occupation, and the ways in which the strains of modernization have forever altered Jeju's island culture."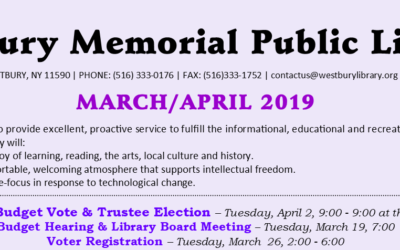 Our March/April 2019 newsletter is now available! View our Upcoming Programs page, or view the PDF directly! Registration for Westbury and Carle Place residents begins February 25, 2019. Don't forget to check out our Children's Programs as well!
read more