Thank you to everyone who voted! Our library budget was passed! For more information on the budget, click here.
read more
"In a heroic effort to dispel racist, destructive myths surrounding immigration, Mehta travels from city to city speaking to people at places like Friendship Park at the Mexican-American border. He also visits other countries like Morocco and the United Arab Emirates to hear the heartbreaking stories of regular people trying to migrate for a better life.
With humanity and keen insight, Mehta explores why people are migrating with higher frequency and explains why immigrants throughout history have always elicited reactionary views and backlash. But most importantly, he explains why we should stop falling for the same hateful rhetoric over and over again. Drawing from the history of racism and colonialism, he makes a case for why refugees and migrants have a positive influence on society instead of a negative one. His simple answer to anyone who asks why immigrants are coming here is: We are here because you were there.
Pulling from history, personal experiences and intimate profiles, Mehta examines the backlash to immigration, what's behind it and why we have good reasons to be hopeful about the future."
"Poet Ocean Vuong's highly anticipated debut novel, On Earth We're Briefly Gorgeous, takes the form of a letter from a young writer to his illiterate mother. The writer, who goes by the nickname Little Dog and whose life bears a strong resemblance to Vuong's own, is the first of his family to go to college. The letter is an attempt to share his fragile sense of self with his mother.
Little Dog's grandmother survived the Vietnam War as a sex worker, and his mother was fathered by an American soldier. After immigrating to the United States and settling in a working-class Connecticut neighborhood, Little Dog became a victim of his mother's abuse and a witness to his grandmother's untreated schizophrenia. Without siblings or a father, Little Dog was isolated and lonely, hyperaware of his small size, his lack of English and his origins."
"In 1940, nineteen-year-old Vivian Morris has just been kicked out of Vassar College, owing to her lackluster freshman-year performance. Her affluent parents send her to Manhattan to live with her Aunt Peg, who owns a flamboyant, crumbling midtown theater called the Lily Playhouse. There Vivian is introduced to an entire cosmos of unconventional and charismatic characters, from the fun-chasing showgirls to a sexy male actor, a grand-dame actress, a lady-killer writer, and no-nonsense stage manager. But when Vivian makes a personal mistake that results in professional scandal, it turns her new world upside down in ways that it will take her years to fully understand. Ultimately, though, it leads her to a new understanding of the kind of life she craves – and the kind of freedom it takes to pursue it. It will also lead to the love of her life, a love that stands out from all the rest.
Now eighty-nine years old and telling her story at last, Vivian recalls how the events of those years altered the course of her life – and the gusto and autonomy with which she approached it. "At some point in a woman's life, she just gets tired of being ashamed all the time," she muses. "After that, she is free to become whoever she truly is." Written with a powerful wisdom about human desire and connection, City of Girls is a love story like no other."
Click here for availability – Large Print 
"The Queen reveals a woman who assumed at least 30 identities to become one of the most astonishing con artists on record. She sometimes claimed to be white, or black, or Hawaiian, or Mexican. In her middle age, she convinced her most recent of six or eight husbands that she was decades younger than she actually was. She abandoned her children on many occasions. She didn't just fraudulently apply for welfare; she conned insurance agencies, probably bought and sold young children to further her schemes, and may have murdered one of her husbands, as well as another woman who was under her spiritual care.
It's a wild story. But that's not the only story Levin tells here. With careful sleuthing, he tracks Taylor back to Tennessee in 1926 and to the birth of Martha Louise White, daughter of an unmarried white teenager and an unnamed black man when such unions were illegal in many states. Martha's (that is, Taylor's) mother would eventually claim her daughter was a foundling. At 6 she was kicked out of an all-white school. "No one wanted to lay claim to Martha Louise White," Levin writes with sympathy. Themes of rejection, racial confusion and possible mental illness create a strong undercurrent beneath this fascinating story.
Much is murky about Linda Taylor's life. But one thing is certain: She wasn't a stereotype. She was one of a kind."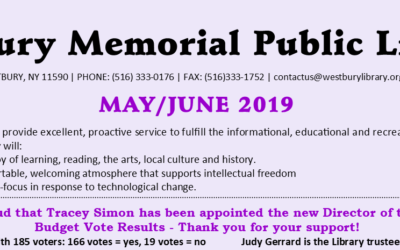 Our May/June 2019 newsletter is now available! View our Upcoming Programs page, or view the PDF directly! Registration for Westbury and Carle Place residents begins April 29, 2019. Don't forget to check out our Children's Programs as well
read more