We appreciate everyone's patience during these trying times. To reserve items, please call the Library at 516-333-0176
The Westbury Library Board of Trustees will be holding their next monthly board meeting on Thursday, May 20th at 7 pm
Or this phone number 1 646 558 8656 alongside this ID 948 6767 2055
The Westbury School District is holding weekly meetings updating the community on COVID-19. Please join them at this link every Thursday at 5:30 PM with any questions you may have.
Patrons of the Westbury library now have access to Hoopla. Hoopla allows users to digitally borrow books, videos, music, audiobooks, and more on their smartphones, computers, and tablets. More information can be found here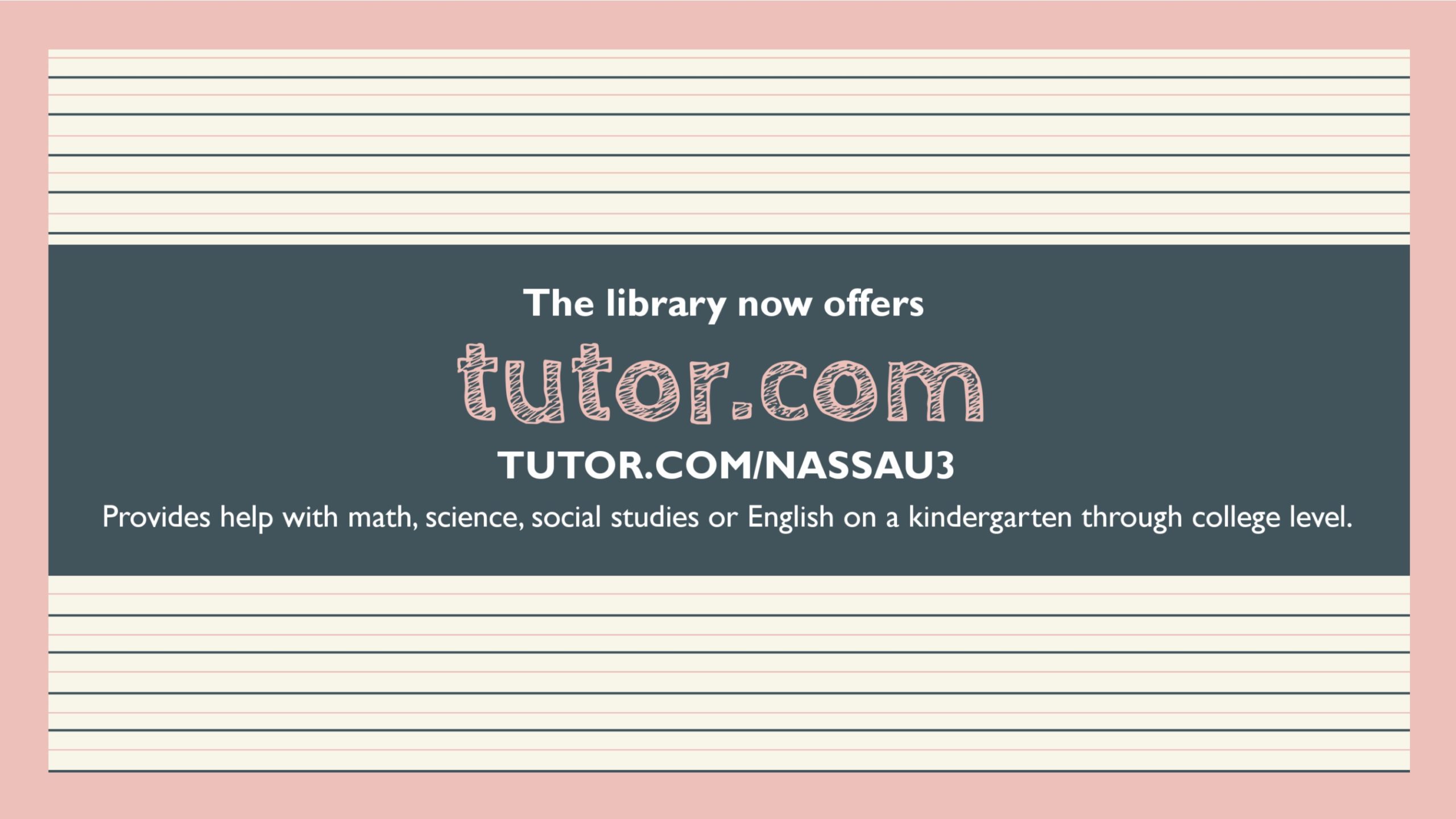 Highlight: Databases
Tutor.com provides help with math, science, social studies or English on a kindergarten through college level.
Check out Tutor.com, or browse our many free databases!
"No author is better than Andy Weir at taking a concept that could be boring on paper (molecular biology) and turning it into a hilarious, thrilling, engrossing piece of accessible hard sci-fi. Thankfully, Project Hail Mary is another intense space puzzle for science nerds and mainstream thrill-seekers alike. Ryland Grace wakes up on a small spaceship with amnesia, unsure of why he's there, what he's meant to do or even what his name is. He begins to recall a mission sparked by alien life near the sun, a mission that may have had existential importance for the human race. Ryland must survive long enough to find a way to save the world using only his mind and the resources aboard the spaceship. Weir's inquisitive and hilarious, optimistic yet deadpan voice carries this book from the very first page. Ryland is the perfect vessel for a cosmic mystery that plays out with the same joyous attention to detail—and poignant philosophical questions about the nature of self-discovery and human ingenuity—found in Weir's beloved debut, The Martian. It's just so gosh-darn hopeful; one can't help but smile the whole way through."
"Returning from an extended leave, Detective Tracy Crosswhite finds herself reassigned to the Seattle PD's cold case unit. As the mother of an infant daughter, Tracy is immediately drawn to her first file: the abduction of a five-year-old girl. Then, Tracy is brought into an active investigation of a young woman who disappeared while jogging. Now, to find two missing persons, Tracy will have to follow more than the clues. She must also follow her instincts—to whatever dark and dangerous places they may lead."
"In present-day Miami, Jeanette is battling addiction. Daughter of Carmen, a Cuban immigrant, she is determined to learn more about her family history from her reticent mother and makes the snap decision to take in the daughter of a neighbor detained by ICE. Carmen, still wrestling with the trauma of displacement, must process her difficult relationship with her own mother while trying to raise a wayward Jeanette. Steadfast in her quest for understanding, Jeanette travels to Cuba to see her grandmother and reckon with secrets from the past destined to erupt.
From 19th-century cigar factories to present-day detention centers, from Cuba to Mexico, Gabriela Garcia's Of Women and Salt is a kaleidoscopic portrait of betrayals—personal and political, self-inflicted and those done by others—that have shaped the lives of these extraordinary women. A haunting meditation on the choices of mothers, the legacy of the memories they carry, and the tenacity of women who choose to tell their stories despite those who wish to silence them, this is more than a diaspora story; it is a story of America's most tangled, honest, human roots."