The library will be closed for Memorial Day Weekend: May 25, 26 & 27.
Thank you to everyone who voted! Our library budget was passed! For more information on the budget, click here.
read more
"I'm really excited," she says in a call to her home in Great Falls, Virginia. "It's a good excuse to have a big party." And no doubt it will be a fun one, as the author radiates energy and enthusiasm even over the phone.
At the center of her book is the Yoo family (Young; her husband, Pak; and their 17-year-old daughter, Mary), who have emigrated from Korea and landed in the rural town of Miracle Creek, Virginia. In a barn, they run Miracle Submarine, a center for hyperbaric oxygen therapy (HBOT) where people go on "dives" in the pressurized oxygen chamber as an experimental treatment for a variety of conditions, including autism, cerebral palsy, infertility and more. Disaster strikes in the very first chapter when the Yoos' chamber explodes, killing two people and injuring and disfiguring others.
The accident, it turns out, is the result of arson, and the rest of the novel unfolds during four days of a trial held one year later, told from multiple points of view, weaving past and present together in a tangled yet beautifully constructed whodunit web."
"When Yasuke arrived in Japan in the late 1500s, he had already traveled much of the known world. Kidnapped as a child, he had ended up a servant and bodyguard to the head of the Jesuits in Asia, with whom he traversed India and China learning multiple languages as he went. His arrival in Kyoto, however, literally caused a riot. Most Japanese people had never seen an African man before, and many of them saw him as the embodiment of the black-skinned (in local tradition) Buddha. Among those who were drawn to his presence was Lord Nobunaga, head of the most powerful clan in Japan, who made Yasuke a samurai in his court. Soon, he was learning the traditions of Japan's martial arts and ascending the upper echelons of Japanese society.
In the four hundred years since, Yasuke has been known in Japan largely as a legendary, perhaps mythical figure. Now African Samurai presents the never-before-told biography of this unique figure of the sixteenth century, one whose travels between countries, cultures and classes offers a new perspective on race in world history and a vivid portrait of life in medieval Japan."
"The novel opens in the mid-1980s at an elite high school for the performing arts, where students compete for roles in a rarefied bubble of camaraderie and pressure. Two rising sophomores, David and Sarah, have an intense sexual relationship over one summer, which ends shortly after school begins. Their bitter breakup and estrangement become the talk of their classmates, and even their charismatic acting teacher, Mr. Kingsley, seems obsessed as he invites Sarah to confide in him and continues to pair the two teens in classroom exercises. When a British director brings his troupe of young actors to the high school for an ill-fated production of Candide, Sarah is drawn into a hapless relationship with the production's star while her bland classmate Karen pines for the group's louche director.
Just when this hothouse atmosphere gets a bit too stifling, there is a shocking spiral of events that ricochets the action into the future and completely transforms the premise of the novel. What readers may have believed to be true about David, Sarah and Karen may not be true, but it may not be completely false either. It is not until the final pages of the novel's short coda that another layer of events is uncovered and the complete picture falls into place. Or does it?"
"Varian Fry was a young Harvard-educated journalist and editor who worked for the American Emergency Rescue Committee during World War II. His primary goal was to prevent notable artists, writers and political exiles, many of them Jewish, from being interned in concentration camps. Stationed in Marseilles in 1940, Fry procured visas, created false passports and sought out escape routes on both sea and land for almost 2,000 people, including Marc Chagall, André Breton and Max Ernst. His inherently dramatic tale is the basis for Julie Orringer's thoughtful and absorbing new novel, The Flight Portfolio.
For just over a year, Fry and a core staff of Jewish and non-Jewish expats focused their efforts in the south of France, collaborating with an extensive network of forgers, blackmailers and petty thieves. Working out of a hotel room, Fry eventually rented a villa to provide a temporary home for refugees who needed a safe residence."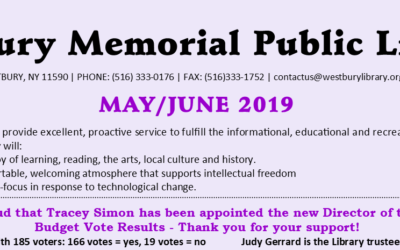 Our May/June 2019 newsletter is now available! View our Upcoming Programs page, or view the PDF directly! Registration for Westbury and Carle Place residents begins April 29, 2019. Don't forget to check out our Children's Programs as well
read more