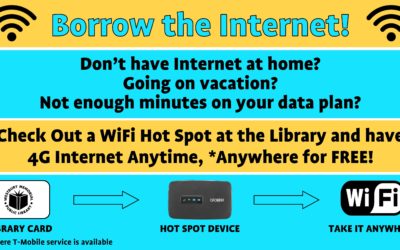 Mobile WiFi hotspots are now available for Westbury Memorial Public Library cardholders to borrow! For more information, or to check out a hotspot for 7 days, speak to a staff member at the Circulation desk.
read more

"Violet needs structure, certainty and, above all, advance plans. But what's a deeply loving and controlling mother to do when her daughter, Cerise—happily partnered up with a woman named Barb—becomes pregnant? The father's name is known only to Cerise and Barb, and they're not telling.
This is hard to take for Violet, whose controlling arm is long. However, leave it to this determined lady to find a way to return order to her world. She's used to micromanaging events at home and at the Faithful Redeemer Church holiday fair, as well as the ongoing issues in her friend Eldris' life, so what could go wrong here? What's a little fraud, some missing eyeglasses, an early labor, an unfinished family tree and a food fight with roast lamb, among friends?
Evergreen Tidings from the Baumgartners is a charming, often hilarious story about people whose sticky jealousies, insecurities and small joys are remarkably similar to the ones that mark our own lives. Anthony offers readers a chance to savor and appreciate the joys of the commonplace as well as that strange but remarkable pride we have in our own family bonds."
"Arky Levin, a 50-year-old film score composer, has reached a strange moment in his life. Recently separated from his wife under disconcerting circumstances and estranged from his only child, Arky finds himself alone in a new apartment in New York and purposefully cut off from friends. This should provide the silence he craves to write his latest film score, but instead he just feels lost. In this frame of mind, he visits the Museum of Modern Art and discovers a performance piece called The Artist Is Present, based on a real 2010 performance by renowned artist Marina Abramović. In this piece, Abramović sits for 75 days at a table as throngs of visitors stand for hours to take turns sitting across from her, still and silent.
Using Abramović's seven steps for creative projects—awareness, resistance, submission, work, reflection, courage and the gift—as an organizational device for her novel, author Heather Rose details the performance's almost mystical effect on Arky and an array of other characters as they return to the piece day after day. Other characters include Abramović herself, a young Ph.D. student from Amsterdam, a recent widow from the South, a radio personality and even Abramović's late mother, each of whom brings his or her own unique experiences and responses to the piece."
"Korede is bitter. How could she not be? Her sister, Ayoola, is many things: the favorite child, the beautiful one, possibly sociopathic. And now Ayoola's third boyfriend in a row is dead.
Korede's practicality is the sisters' saving grace. She knows the best solutions for cleaning blood, the trunk of her car is big enough for a body, and she keeps Ayoola from posting pictures of her dinner to Instagram when she should be mourning her "missing" boyfriend. Not that she gets any credit.
Korede has long been in love with a kind, handsome doctor at the hospital where she works. She dreams of the day when he will realize that she's exactly what he needs. But when he asks Korede for Ayoola's phone number, she must reckon with what her sister has become and how far she's willing to go to protect her."
Our November/December 2018 newsletter is now available! View our Upcoming Programs page, or view the PDF directly! Registration for Westbury and Carle Place residents begins October 29th,...
read more