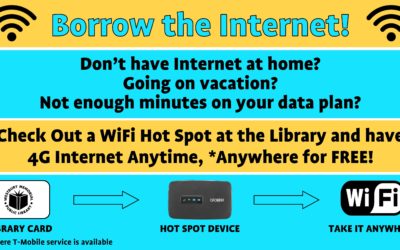 Mobile WiFi hotspots are now available for Westbury Memorial Public Library cardholders to borrow! For more information, or to check out a hotspot for 7 days, speak to a staff member at the Circulation desk.
read more
"A new collection of essays and speeches from Nobel Prize winner Toni Morrison solidifies her legacy as one of America's most thoughtful and important writers. Toni Morrison is such a peerless, masterful storyteller that it is easy to forget she is also one of our most engaged and engaging public intellectuals. Her new collection of essays and speeches, The Source of Self-Regard, reminds us of the breadth and depth of her concerns. Morrison ruminates on and illuminates the political, racial, social and literary issues that have long informed her work with a singular combination of curiosity and confidence."
"Hollywood, 1938: As soon as she learns that M-G-M is adapting her late husband's masterpiece for the screen, seventy-seven-year-old Maud Gage Baum sets about trying to finagle her way onto the set. Nineteen years after Frank's passing, Maud is the only person who can help the producers stay true to the spirit of the book—because she's the only one left who knows its secrets.
But the moment she hears Judy Garland rehearsing the first notes of "Over the Rainbow," Maud recognizes the yearning that defined her own life story, from her youth as a suffragette's daughter to her coming of age as one of the first women in the Ivy League, from her blossoming romance with Frank to the hardscrabble prairie years that inspired The Wonderful Wizard of Oz. Judy reminds Maud of a young girl she cared for and tried to help in South Dakota, a dreamer who never got her happy ending. Now, with the young actress under pressure from the studio as well as her ambitious stage mother, Maud resolves to protect her—the way she tried so hard to protect the real Dorothy."
 "For author, professor and acclaimed academic Emily Bernard, facing adversities as a black woman in America has spawned the invaluable and hard-won ability to take control of her own narrative. Black Is the Body: Stories from My Grandmother's Time, My Mother's Time, and Mine consists of 12 personal essays brimming with equal parts hope and fury, joy and pain. Whether exploring the delicate dynamics of her interracial marriage, the haunting memory of being stabbed by a white man while she was a graduate student at Yale or the process of adopting her twin daughters from Ethiopia, Bernard's writing is intimate, honest and unafraid of diving into gray areas. Although society at large may deem the black body—and by extension, blackness—as synonymous with suffering, Bernard's collection doesn't shy away from the fact that sometimes scars are proof of life beyond the state of survival."
 "An unexpected friendship between a traveling Muslim garment seller from a remote Himalayan village and the aloof wife of a wealthy Hindu businessman from the southern Indian city of Bangalore forms the basis of The Far Field, the dazzling debut novel from Madhuri Vijay.
The salesman, Bashir Ahmed, is warm and charismatic, and his unlikely friend is the volatile mother of Shalini, a privileged young woman and the first-person narrator of the novel. After her mother's death, Shalini, listless and troubled, goes off in search of Ahmed to find closure. At first it seems like an odd, reckless decision, to travel to the troubled northern end of the country—to Jammu and then Kashmir—in search of someone whom she only barely remembers from childhood and about whom she has only scant information.
In Jammu, Shalini lodges with a Muslim family that has been shattered by the loss of a son at the hands of the Indian Army. She then tracks down Ahmed's family, who take her to their remote Indian village and treat her as one of their own. However, Shalini is in the midst of a fractured landscape, and nothing is what it seems. Hindus and Muslims are at loggerheads, and the army appears responsible for a series of disappearances. Foreign militants have been infiltrating the area, increasing tensions. Shalini's longing for connection and love within this tumultuous setting only exacerbates her problems."
Our January/February 2019 newsletter is now available! View our Upcoming Programs page, or view the PDF directly! Registration for Westbury and Carle Place residents begins December 17th, 2018.
read more