April 2, 2019, 9:00 - 9:00 at the Library! For more details, check out our Budget Information!
read more
"Lyle Hovde and his wife welcome home their adopted daughter, Shiloh, and her 5-year-old son, Isaac, who need help getting back on their feet. Lyle dotes on Isaac, taking him to neighbor Hoot's house for ice cream or to the apple orchard where Lyle works in retirement. But when Shiloh joins a radical church in nearby La Crosse, Wisconsin, she pushes her parents away. Lyle, with the help of his mates, must decide how to act when his beloved grandson's health is in danger.
Little Faith is filled with biblical elements, starting with its bucolic, Eden-like setting, where the Hovde family enjoys togetherness after a long estrangement. Lyle is tempted to savor this fairy-tale scene, but like the apples he tends, the moment doesn't keep well. Salvation is an open-ended question in this story. Is Lyle saved? Or is it Lyle who saves Isaac? Like a good parable, the novel's message is worth patient interpretation."
"When horror superfan and film producer Mallory O'Meara watched The Creature from the Black Lagoon at age 17, her life changed forever. She found a lifelong heroine when she discovered that the movie's titular creature had been created by a female artist named Milicent Patrick. "For all of my adult life and film career, Milicent Patrick has been a guiding light, a silent friend, a beacon reminding me that I belonged," O'Meara writes.
Patrick was a footnote long lost to film history, but O'Meara has decided to change all that with her fascinating biography, The Lady from the Black Lagoon: Hollywood Monsters and the Lost Legacy of Milicent Patrick. Patrick's story is enthralling: She spent part of her childhood on the grounds of Hearst Castle, where her megalomaniac father was an architect. A talented artist, she became one of Disney's first animators and, later, the only woman to create a classic Hollywood monster―only to be fired because her boss was jealous of the attention she was receiving. Nonetheless, her legacy continues to inspire, as her creature was the impetus behind the Oscar-winning film The Shape of Water. Patrick was also an actress (albeit not a great one) and a glamorous personality who embodied the allure of Hollywood."
"We follow the life of a girl named Harriet Lee, daughter of Margot and Simon, who grows up in the land of Druhástrana amid the idyllic wheat fields, in a life of serfdom to the wealthy and legendary Kercheval family. But Druhástrana, once a powerful small nation, seems to have fallen off the map, and now only exists as a myth for the rest of the world. No way in. No way out.
Or so it seems—until Margot gets a message via a homing pigeon from a very distant cousin in Britain (also a wealthy Kercheval), who somehow comes across a video clip of Harriet and sees promise in the young girl. He wants to rescue the Lees, so to speak, and thanks to Margot's magical gingerbread, Harriet and Margot are able to leave Druhástrana, but with a new debt to the Kerchevals.
That was then, and this is now. Living in a seven-story walk-up apartment, Harriet is now 34 years old and a mother to a very curious 17-year-old named Perdita. Will Perdita be the reason that Harriet and Margot are finally forced to revisit their Druhástranian roots? And were they really able to escape their history while forging a new life in Britain?"
"Dartmouth classmates Jack and Wynn have cleared a few weeks for fly-fishing and whitewater canoeing in northern Canada. Raised on a ranch in Colorado, Jack finds camping and hunting to be as natural as breathing. Wynn is a gentle soul from rural Vermont whose random trailside installations of stones, twigs and flowers do not take away from his acumen out of doors. The young men share a love of literature and outdoor sport, and imagine their two-week trek to be one of leisurely paddling, blueberry picking and reading around the campfire. This idyll is abruptly shattered when they sniff out the fumes of a swiftly approaching forest fire. Wynn and Jack agree to turn back and warn a couple they heard arguing the day before. This proves to be a fateful decision, as the woman, Maia, is found injured and bloody, and her husband, Pierre, no longer on the scene. The two men, with the badly shocked Maia in tow, are now on the run from the fire and, equally threatening, from a possibly homicidal husband. As if this weren't bad enough, the crises put a strain on the two men, and an element of mistrust creeps into their friendship."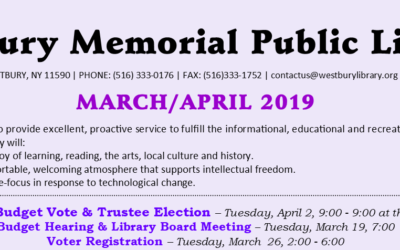 Our March/April 2019 newsletter is now available! View our Upcoming Programs page, or view the PDF directly! Registration for Westbury and Carle Place residents begins February 25, 2019. Don't forget to check out our Children's Programs as well!
read more