Thank you to everyone who voted! Our library budget was passed! For more information on the budget, click here.
read more
"R.L. Maizes chronicles the comedy and absurdity of the human condition in her wry, whimsical debut, We Love Anderson Cooper. In the beautifully executed title story, Markus, a seventh-grader grappling with his homosexuality, causes a stir by coming out at his bar mitzvah. ("Why didn't you talk to us first? We would have understood," his mother says. "We love Anderson Cooper.") Markus is one of several characters whose emotions bring unexpected consequences or shifts in perspective, such as in "Couch," in which therapist Penelope's new office sofa has the power to impart optimism. Crafted without excess or stylistic extremity, Maizes' stories have a refreshing forthrightness."
"Lisa Taddeo opens Three Women, her compelling debut, with stories about her mother: the beginnings of her mother's life as a woman, with all the complexities that accompany the teenage years, when society views women as reaching the height of their sexual power. She closes with her mother as well, this time describing the end of her life as Taddeo cared for her in the hospital. While this may seem like a strange decision for a book that concerns itself with female desire, it's quickly apparent to even the casual reader that Taddeo doesn't shy away from the unspoken, the uncomfortable and the shadow sides of sexuality. This is by necessity a ruthless book as it explores the half-concealed aspects of not only the female sex life but also the inner and secret lives of women.
The three women in question cut across lines of class, age and experience. Maggie's story begins as a teen-ager in a working-class family in North Dakota, receiving provocative and confusing texts from an English teacher that build alarmingly and irresistibly. Lina is an Indiana housewife, firmly middle-class, unfulfilled and anxiety-ridden amid toddlers and a sexless marriage, when she reconnects with an old boyfriend over Facebook. Enigmatic Sloane is comfortably upper-class and considers herself highly in control of her sexual agency, until difficult memories surface, consequences arise, and she begins to question the line between male desire and her own—whether she is subject or object.
Three Women is merciless, impossible to put down and so revealing as to be uncomfortable. As the women share themselves, you find yourself reflected. It's a multifaceted work that changes as you turn it, casting light in unexpected corners that you never before considered—and had perhaps even been guarding against.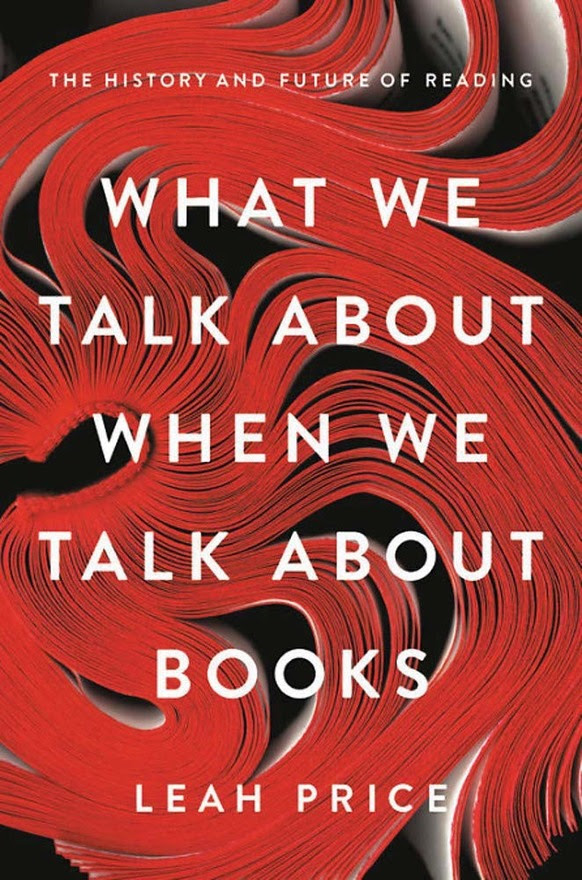 In her professional capacity, Price has spent plenty of time among the dusty, forgotten vestiges of the reading past. She's scrutinized the marginalia in antique school primers and the fingerprint stains on old library books. Studying books can make it hard to venerate texts, Price writes. She's discovered, for instance, that in old copies of Samuel Richardson's 18th-century doorstop of a novel Clarissa, the sex scenes are often well-thumbed, while long passages describing pastoral landscapes are in pristine condition. This would suggest that our romanticized reader of the past was just as prone to skimming for the "good bits"—21st-century eBooks just make the process a little easier.
Pundits have been writing about some version of the book's demise since at least the 19th century, Price finds. But in truth, the future of literacy doesn't hinge on "whether we read in print or online or in some as-yet-unimagined medium but rather [on] the interactions through which we get our hands on books—and even more fundamentally, the interactions that awaken a desire for them." Ultimately, she believes the experience of immersing oneself in a world made of words can only survive if readers continue to carve out the places and times to have words with one another.
Price takes this affectionate study of the history and future of reading in many disparate directions. She ventures into both contemporary psychiatry and the modern-day "archeology" of preserving and exploring Harvard's remote library stacks. She takes us across centuries to the time of religious scribes, the innovations of Gutenberg and the digital success of Fifty Shades of Grey. She contemplates the reality that the challenge of reading today is not the availability of books, as it once was, but finding the time to read.
"Cantoras begins in late-1970s Uruguay, a country under the control of a merciless military government. Seeking refuge from the oppressive atmosphere of the capital, five women travel to an isolated coastal village called Cabo Polonio. It soon becomes a haven where the women can live as they wish, to be lovers, friends, confidants—to be free. So liberating is this place that the women decide to pool their money and buy a small home there.
From that first visit to Cabo Polonio, De Robertis unfurls the stories of each of the women's lives—their hopes, their secret pasts, the suffering they've been made to endure by a society in which living openly is more often than not a dangerous pipe dream. The novel covers some 35 years, frequently changing focus from one character to another and yet at all times retaining a powerful sense of intimacy. Each of De Robertis' central characters is of incredible emotional depth.
Cantoras is at its most powerful when dissecting consequences of desire. Several of the central characters are subjected to horrific violence at the hands of the military dictatorship, but they are also sometimes subjected to violence at the hands of their relatives, people who cannot accept them as they are, who want desperately to "fix" them. In this atmosphere of repression, Romina, one of the five women, thinks, "the path into the forbidden was in fact wide open right in front of you . . . stepping onto it could be a kind of rightness, a vitality more powerful than fear."
Our July/August 2019 newsletter is now available! View our Upcoming Programs page, or view the PDF directly! Registration for Westbury and Carle Place residents begins Jube 24, 2019.Don't forget to check out our Children's Programs as well!
read more