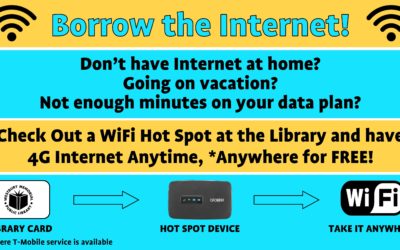 Mobile WiFi hotspots are now available for Westbury Memorial Public Library cardholders to borrow! For more information, or to check out a hotspot for 7 days, speak to a staff member at the Circulation desk.
read more
 "For author, professor and acclaimed academic Emily Bernard, facing adversities as a black woman in America has spawned the invaluable and hard-won ability to take control of her own narrative. Black Is the Body: Stories from My Grandmother's Time, My Mother's Time, and Mine consists of 12 personal essays brimming with equal parts hope and fury, joy and pain. Whether exploring the delicate dynamics of her interracial marriage, the haunting memory of being stabbed by a white man while she was a graduate student at Yale or the process of adopting her twin daughters from Ethiopia, Bernard's writing is intimate, honest and unafraid of diving into gray areas. Although society at large may deem the black body—and by extension, blackness—as synonymous with suffering, Bernard's collection doesn't shy away from the fact that sometimes scars are proof of life beyond the state of survival."
 "An unexpected friendship between a traveling Muslim garment seller from a remote Himalayan village and the aloof wife of a wealthy Hindu businessman from the southern Indian city of Bangalore forms the basis of The Far Field, the dazzling debut novel from Madhuri Vijay.
The salesman, Bashir Ahmed, is warm and charismatic, and his unlikely friend is the volatile mother of Shalini, a privileged young woman and the first-person narrator of the novel. After her mother's death, Shalini, listless and troubled, goes off in search of Ahmed to find closure. At first it seems like an odd, reckless decision, to travel to the troubled northern end of the country—to Jammu and then Kashmir—in search of someone whom she only barely remembers from childhood and about whom she has only scant information.
In Jammu, Shalini lodges with a Muslim family that has been shattered by the loss of a son at the hands of the Indian Army. She then tracks down Ahmed's family, who take her to their remote Indian village and treat her as one of their own. However, Shalini is in the midst of a fractured landscape, and nothing is what it seems. Hindus and Muslims are at loggerheads, and the army appears responsible for a series of disappearances. Foreign militants have been infiltrating the area, increasing tensions. Shalini's longing for connection and love within this tumultuous setting only exacerbates her problems."
 " Seraphine is staying at Summerbourne, her family's manor on the Norfolk coast, mourning the death of her father and reminiscing about her childhood. While rifling through old family photo albums, she is shocked to stumble across a chilling image. In it, her mother holds a baby, and Seraphine's older brother and father stand smiling in the picture. The photograph is picture-perfect: a family posing proudly with their newborn. But Seraphine is a twin, and hours after she and her twin brother, Danny, were born, her mother tragically threw herself from the cliffs behind their luxurious home.
The mourning daughter begins a hunt for clues as to what happened on that dreadful day and why only one baby is in the photograph. Her search leads her to Laura, the family's former au pair, who mysteriously left Summerbourne the same day Seraphine and Danny were born and their mother died. Then messages—at first subtle and then explicit—are sent to stop Seraphine from digging any deeper. Her brothers begin to worry for her sanity and then her safety, as odd events start to unfold throughout her search for the truth."
 "When Shapiro was 23, her father died from injuries he suffered in a devastating car crash, a tragedy she chronicled in her 1998 memoir, Slow Motion Years later, when Shapiro's husband decided to order a DNA kit, he asked her if she wanted one as well. She gamely agreed, and gave it little thought until several months later, when the kit's shocking results showed that she was only half Jewish. Furthermore, she wasn't biologically related to her half-sister, her father's child from a previous marriage. An offhand remark made decades earlier by Shapiro's now-deceased mother provided a clue to the puzzle: She told Shapiro that she had been conceived in Philadelphia.
With astonishing speed, Shapiro and her husband unraveled the mystery. Her parents had traveled to Philadelphia for artificial insemination; an anonymous sperm donor was Shapiro's biological father. The DNA results and some internet sleuthing allowed Shapiro and her husband to track down the identity of her father, a now-retired physician who specialized in, of all things, medical ethics.
Our January/February 2019 newsletter is now available! View our Upcoming Programs page, or view the PDF directly! Registration for Westbury and Carle Place residents begins December 17th, 2018.
read more