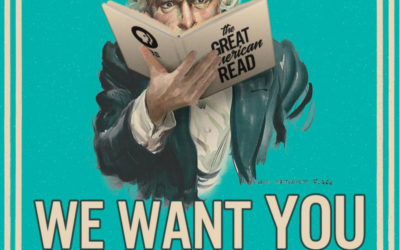 WMPL is inviting the community to help us vote in The Great American Read! Come into the library and check out our book display featuring a selection of some of the 100 books America loves the most. Cast your vote and when it's finished, we'll know not only which book...
read more
"The story opens in 2001 at a coming-of-age party at a Brooklyn brownstone. Sixteen and outfitted in her mother's lace dress with a matching corset, garters and stockings, Melody plans to enter the party to an instrumental version of Prince's "Nikki," much to her grandparents' discomfort.
But there's another catch to both the day and the dress. At 15, Melody's mother, Iris, was pregnant and unable to wear the carefully made dress. Iris' own coming-of-age birthday was left unmarked, and after her dismissal from private school, the family opted to move to another part of Brooklyn where they could also join a new church. But despite the shame and disruption of baby Melody, Iris was determined to move forward, ultimately getting her high school diploma, enrolling at Oberlin College and moving, almost permanently, out of Melody's life.
Over 21 brief chapters, Red at the Bone, which draws its title from the romantic feelings Iris has for another woman at Oberlin, moves backward and forward in time, examining the effect Melody's birth had on each character, from her disappointed but loving grandparents to her devoted father and his resolute yet fragile mother. Along the way, the reader learns more about the history of the family's losses, from 9/11 to the Tulsa Race Riots of 1912."
Click here for availability- Book on CD
"Like the beehives he tends, Nuri Ibrahim exists at the mercy of forces larger than he. When war encroaches on him and his wife, Afra, they are forced to leave their lives in Syria behind and become refugees.
Entrusting themselves to strangers, they journey toward England, where Nuri's cousin Mustafa waits with his family, but it takes a long time to reunite with Mustafa. Bridging the distance between husband and wife, a rift forged by profound loss, will take just as long. The war has blinded them both: Afra has lost her sight, and Nuri often sees only what he wants to see.
In The Beekeeper of Aleppo, author Christy Lefteri draws from her experiences volunteering with refugees in Athens, Greece, to build a moving examination of how people make sense of who they were and who they have become. Through Syria, Turkey and Greece, Afra and Nuri move and wait while the pull of the past, both its dark tragedy and its former sunlit joy, travels with them.
Hope is a thread Nuri loses, picks up and loses again. But no matter how bleak the present in which they find themselves, hope surfaces when it is most needed—in dreams, in visions, in emails, in an injured bee, in the blue sky, in memory. Not all memories are shadows; some are full of light."
"Midsummer's Eve, 1648, England is in the grip of a civil war between renegade king and rebellious parliament. The struggle reaches every corner of the kingdom, even the remote tidelands —the marshy landscape of the south coast.
Alinor, a descendant of wisewomen, trapped in poverty and superstition, waits in the graveyard under the full moon for a ghost who will declare her free from her abusive husband. Instead, she meets James, a young man on the run, and shows him the secret ways across the treacherous marsh, not knowing that she is leading disaster into the heart of her life.
Suspected of possessing dark secrets in superstitious times, Alinor's ambition and determination mark her out from her neighbors. This is the time of witch mania, and Alinor, a woman without a husband, skilled with herbs, suddenly enriched, arouses envy in her rivals and fear among the villagers, who are ready to take lethal action into their own hands.
It is dangerous for a woman to be different."
"Once the Superintendent of Sûreté du Québec, Armand Gamache has been demoted to a position leading the homicide department. It was a demotion few believed he would accept, but he surprised the naysayers and took the job. As A Better Man opens, the spring thaw is beginning in the St. Lawrence River, and the elements are conspiring to spawn a 100-year flood, the river overflowing its banks as ice dams the flow at every bend. It's not a propitious time to be investigating a murder, but a young woman's body turns up in a small but volatile tributary of the St. Lawrence. Her husband is the prime suspect; no surprises there, as he is a mercurial and abusive man. But there are other possibilities, too: a pair, or perhaps a trio, of spurned lovers, as well as a high-ranking police official bent on tanking the investigation if doing so will shed a bad light on Gamache. All the while, the floodwaters rise inexorably. Louise Penny's latest offers suspense galore, well-drawn characters we'd like to know (even the crotchety poet Ruth and her "fowl-mouthed" duck), a return to the fictional village of Three Pines—where we would all like to live—and some of the finest prose to grace the suspense genre."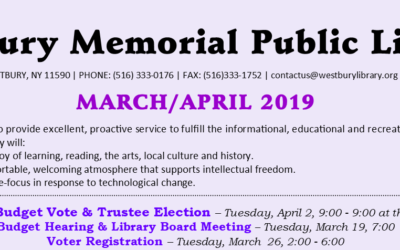 Our March/April 2019 newsletter is now available! View our Upcoming Programs page, or view the PDF directly! Registration for Westbury and Carle Place residents begins February 25, 2019. Don't forget to check out our Children's Programs as well!
read more