We appreciate everyone's patience during these trying times. To reserve items, please call the Library at 516-333-0176
The Westbury Library Board of Trustees will be holding their next monthly board meeting on Thursday, April 15th at 7 pm
Or this phone number 1 646 558 8656 alongside this ID 948 6767 2055
THE LIBRARY IS RE-OPENING FOR CONTACT-LESS PICKUP ON JUNE 29TH
We are happy to announce that beginning on Monday, June 29, 2020, the Westbury Memorial Public Library will offer contact-less pickup on weekdays, Monday through Friday, from 9:30 am – 8:30 pm. To reserve items, please call the Library at 516-333-0176 and tell us what you are looking for, or visit the Library website at www.westburylibrary.org. If you are unsure of what you would like to read or view, our librarians will be happy to help you make a selection. Once your items are ready to be picked up, we will call you and check them out to you.
Patrons should call the Library upon their arrival to pick-up material so that a staff member can bring the requested library materials to the table that will be set up outside each library. The items will be placed on the tables for contact-less pick-up. A monitor will be present to ensure that this process goes smoothly.
Please note that we will only be able to provide items that are part of the Westbury Memorial Public Library catalog as long inter-library loan services remain suspended. We will be determining when the libraries can be re-opened to patrons and when other services can be provided based upon our ability to comply with government directives. We certainly hope that the Library can be fully operational as soon as possible. Thank you for your understanding and your continued support.
The Board of Trustees
Judy Gerrard, President
Denise Parillo, Vice President
Marie Rousseau, Trustee
Shirley Darkeh, Trustee
Carmen Lloyd, Trustee
Keep an eye out for more information about our 2020 budget.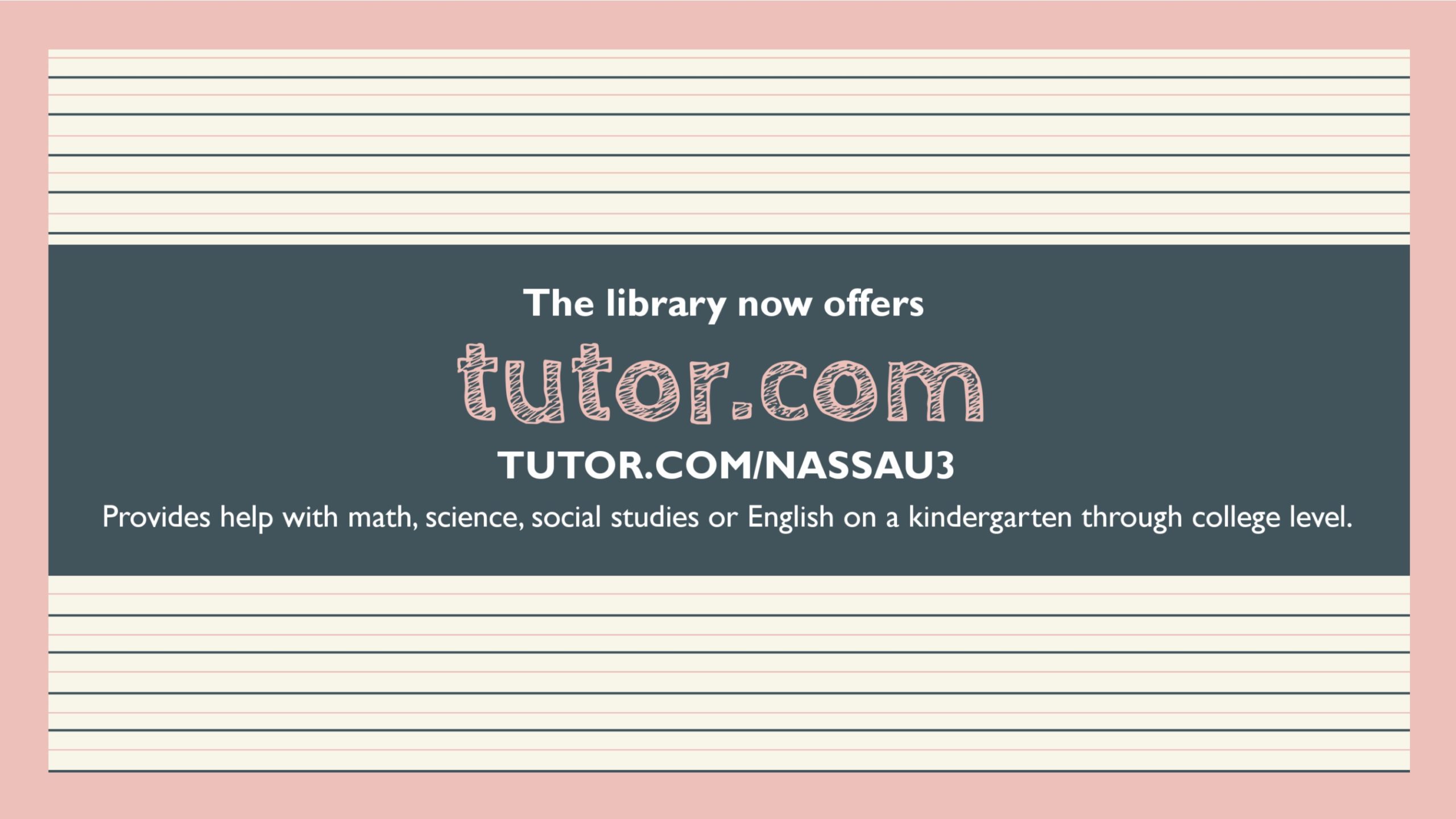 Highlight: Databases
Tutor.com provides help with math, science, social studies or English on a kindergarten through college level.
Check out Tutor.com, or browse our many free databases!
"The story of how young Kurdish women brought down terrorists from the Islamic State group has been waiting to be told. If Kobani, Syria, is a city that has gone unnoticed in the saga of Middle Eastern wars, then The Daughters of Kobani: A Story of Rebellion, Courage, and Justice will change that. It's the story of a new generation of combatants, long denied choices about education, marriage or their very futures, who vanquished hosts of kidnappers, rapists and enslavers. Yet when author and journalist Gayle Tzemach Lemmon was asked to tell their story, she hesitated. "It just doesn't make sense that the Middle East would be home to AK-47-wielding women driven with fervor and without apology or hesitation to make women's equality a reality—and that the Americans would be the ones backing them." She decided to go see for herself.
By 2016, civil war was tearing Syria apart, leaving room for ISIS, with help from allies such as Russia and Iran, to swagger in. President Barack Obama pledged that there would be no American troops on the ground; American support would have to come from the air, with airstrikes and weapons drops, while consultants and diplomats strategized from afar. On the front lines in Kobani were women like Azeema, trained as an expert sniper, and her childhood friend Rojda, whose mother still called her every day.
Based on hours of on-the-ground reporting and countless interviews with Kurdish Women's Protection Units (YPJ) fighters, Lemmon delivers a vivid, street-by-bombed-out-street account of the final days of the battle for Kobani. Strewn throughout are reports of what the soldiers were up against: appalling ISIS acts like beheadings, torture and worse. The YPJ was outnumbered and underequipped, but they were fearless.
The battles for Kobani, and later Raqqa, were key moments in a history that is still being made. With international interest waning and ISIS sleeper cells and foreign fighter recruitments quietly continuing, ready to reignite the landscape, those Kurdish and Arab victories in 2017 and onward hold no guarantees. As Lemmon observes, it is "easier to kill a terrorist than to slay an ideology." Still, no matter the final outcome, the women who fought this war have shown the world what courage and justice look like. And if the next generation must keep fighting, these warriors have shown them how."
"Florence Nightingale and Dorothea Dix loom large as women who reformed health care in the 19th century—in the fields of nursing and mental health, respectively—but Elizabeth and Emily Blackwell have remained largely unrecognized for their roles in medical history. No longer, though, for Janice P. Nimura's compelling biography The Doctors Blackwell: How Two Pioneering Sisters Brought Medicine to Women and Women to Medicine reclaims the sisters' enduring contributions to medicine and to women's history.
In breathtaking prose and exhaustive detail, Nimura chronicles the lives of the Blackwell sisters—their childhood in England, their immigration to America, the challenges they faced as they made their way in the medical profession and their eventual establishment of institutions that would provide both access to quality medical care for women and a place where women could study medicine in order to practice it.
Attracted to healing as a teenager, Elizabeth saw medicine as a noble vocation, but as she sought to embrace her calling she encountered resistance at almost every turn. Eventually she was able to graduate from Geneva Medical College in New York, becoming the first woman in the U.S. to earn a medical degree, after which she set up a practice in New York City. Emily followed in her older sister's footsteps, attending Rush Medical College in Chicago and the Medical College of Cleveland, where she became the third woman in the U.S. to receive a medical degree. In 1857, the two sisters founded the New York Infirmary for Indigent Women and Children, and in 1868 they opened the Women's Medical College in New York City, where Elizabeth taught courses on sanitation and hygiene and Emily taught obstetrics and gynecology. By 1900, the college had trained more than 364 women, and the sisters' work led to thousands of women becoming educated in the medical field.
Nimura's compelling biography not only recovers the lives and work of Elizabeth and Emily Blackwell but also provides a colorful social history of medicine in America and Europe during the mid- to late-19th century."
" In The Three Mothers: How the Mothers of Martin Luther King, Jr., Malcolm X, and James Baldwin Shaped a Nation, Anna Malaika Tubbs tells three stories that are often overlooked but deeply important to civil rights history. Tubbs explores the lives of "the women before the men," as she calls them: Alberta King, Louise Little and Berdis Baldwin. Though each woman came from a different part of the U.S. and the Caribbean, faced diverse social and economic challenges and had divergent interests and ambitions, Tubbs knew that, because the women were so close in age (by some accounts their birthdays are only six years apart), she would find common ground among these women's lives that superseded their connections to famous men.
Tubbs intentionally chose the mothers of leaders whose lives have been well documented so she could focus on the women's lives instead. In this way, The Three Mothers offers space for Tubbs, a debut author, to weave biography and social commentary with the complex history of Black women living in the 20th century. Tubbs also makes room for moments of discovery that help us better understand how each of these civil rights icons' social activism and artistic endeavors were shaped by their mothers' shining examples. For instance, Alberta King's radical maternal tenderness set the groundwork for how her son would view himself as a "mother" birthing a dream of racial equality. We also learn how Louise Little's childhood love of dictionaries would lead her incarcerated son, Malcolm, on a quest for knowledge that would reroute his early delinquency, and how Berdis Baldwin would pass on her gift of both the written and spoken word to her oldest son, James.
As Tubbs explained in an interview for BookPage, there is a troubling binary between motherhood and intellectual labor, and her writing about three women whose sons' lives were shaped by their mothers (and not vice versa) is an attempt to turn that binary on its head. The Three Mothers does just that, expanding conversations about King, Malcolm X and Baldwin beyond what these men gave the world to include what the world gave them through the lives of three intelligent, ambitious, trailblazing women."