The library would greatly appreciate your thoughts on our website. Please share them by taking the brief survey below

Register for Programs/Events using EventKeeper.
Click the button below for more information.

The Library Board of Trustees will hold their next monthly Board meeting in the large meeting room on Thursday, January 20, 2022 at 7pm.
The public is invited to attend.

As per CDC recommendations, 
all patrons are required to wear a
mask regardless of vaccination
status when entering the Library. 
Thank you.

24/7 Wifi Access with Wifi Whenever
The Westbury Memorial Public Library now has 24/7 outdoor WiFi access in our courtyard thanks to our Wifi Whenever Hotspot.
Simply come to the courtyard and connect to the wireless network: Wifi Whenever.

The Westbury School District is holding weekly meetings updating the community on COVID-19. Please find more information by clicking the button below and join them every Thursday at 5:30 PM with any questions you may have.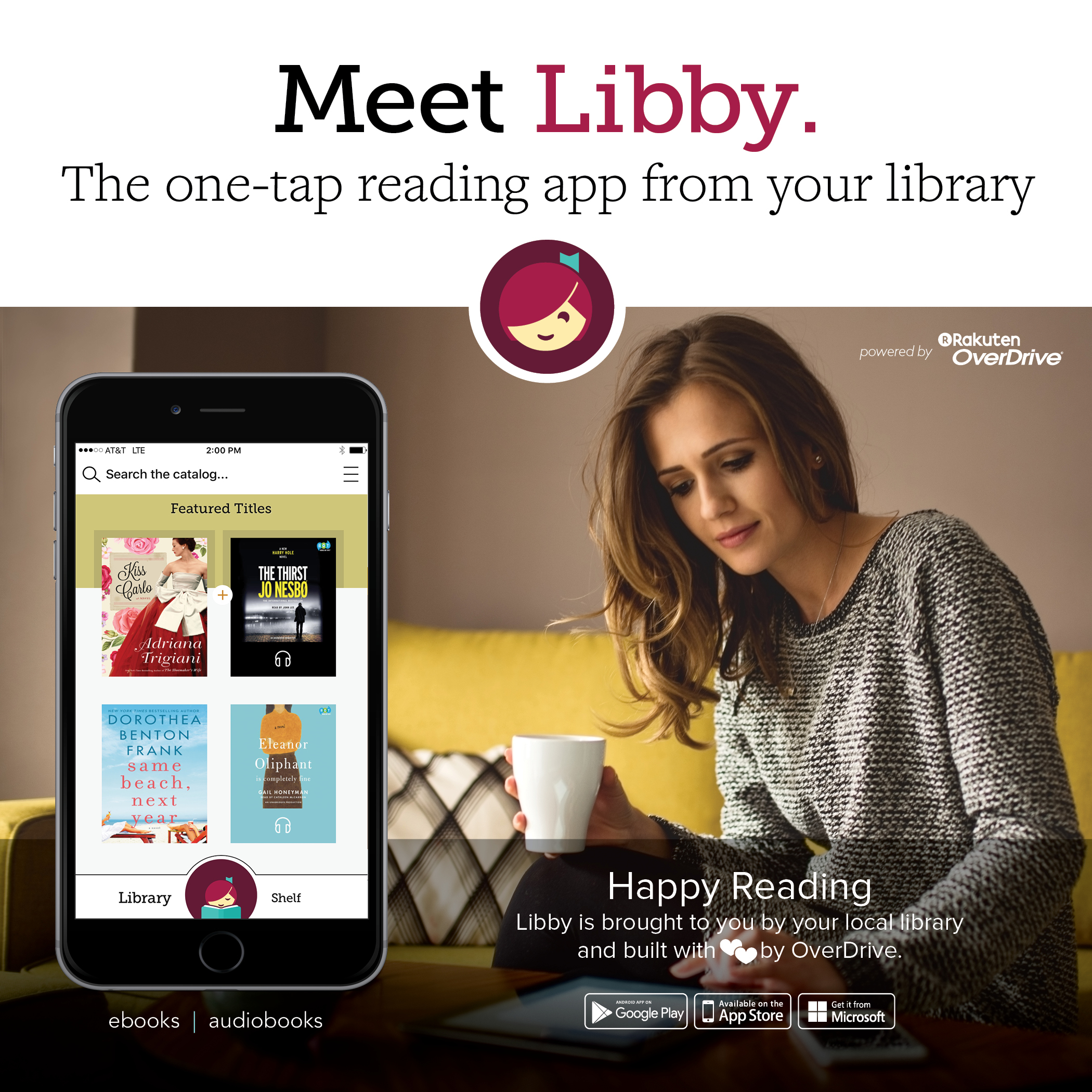 The Libby app is a new, streamlined way to borrow digital books and audiobooks from your library. Now with more items from the RBdigital catalog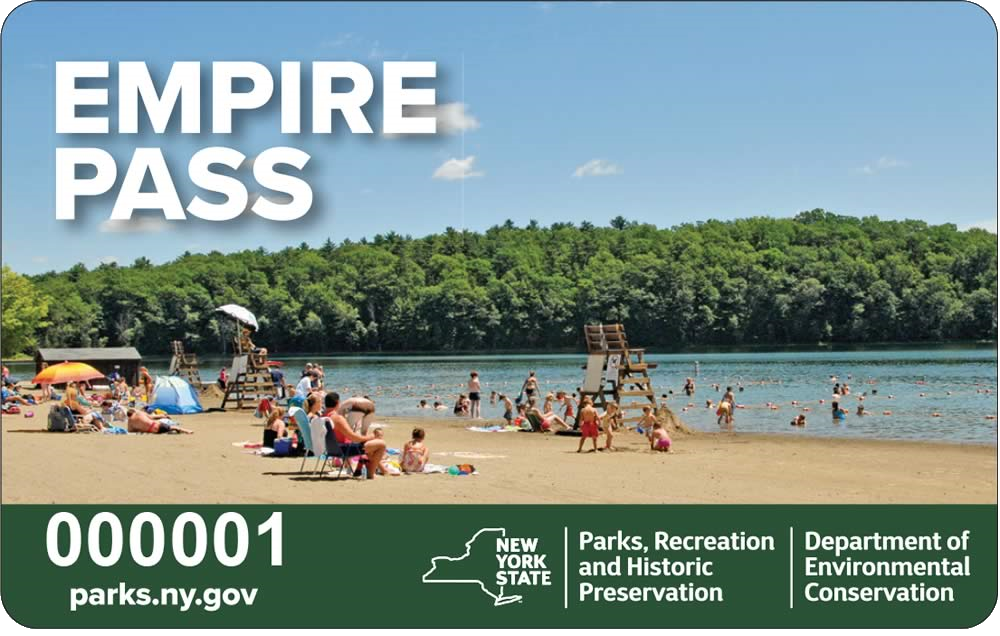 The Empire Pass is your key to all season enjoyment to New York State Parks. Reserve now by checking out our Museum Passes page!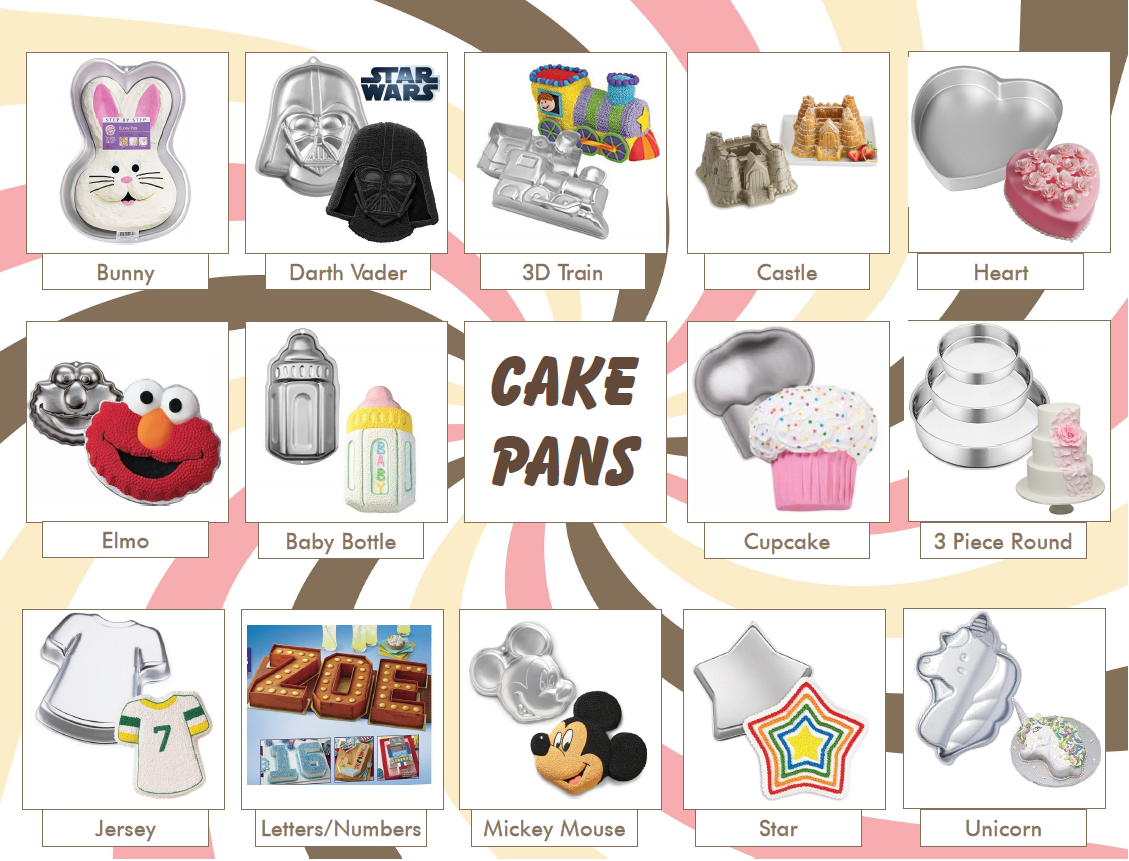 See which of our specialty cake pans are available at the Children's Library!

The New York State Department of Labor is partnering with Coursera, an online training provider, to grant New Yorkers free access to nearly 4,000 online programsto help hone their skills in data science, business, and technology. Coursera's programs are developed in partnership with top universities around the globe and were specifically chosen for inclusion in this offer to help job seekers gain skills needed to advance in their careers.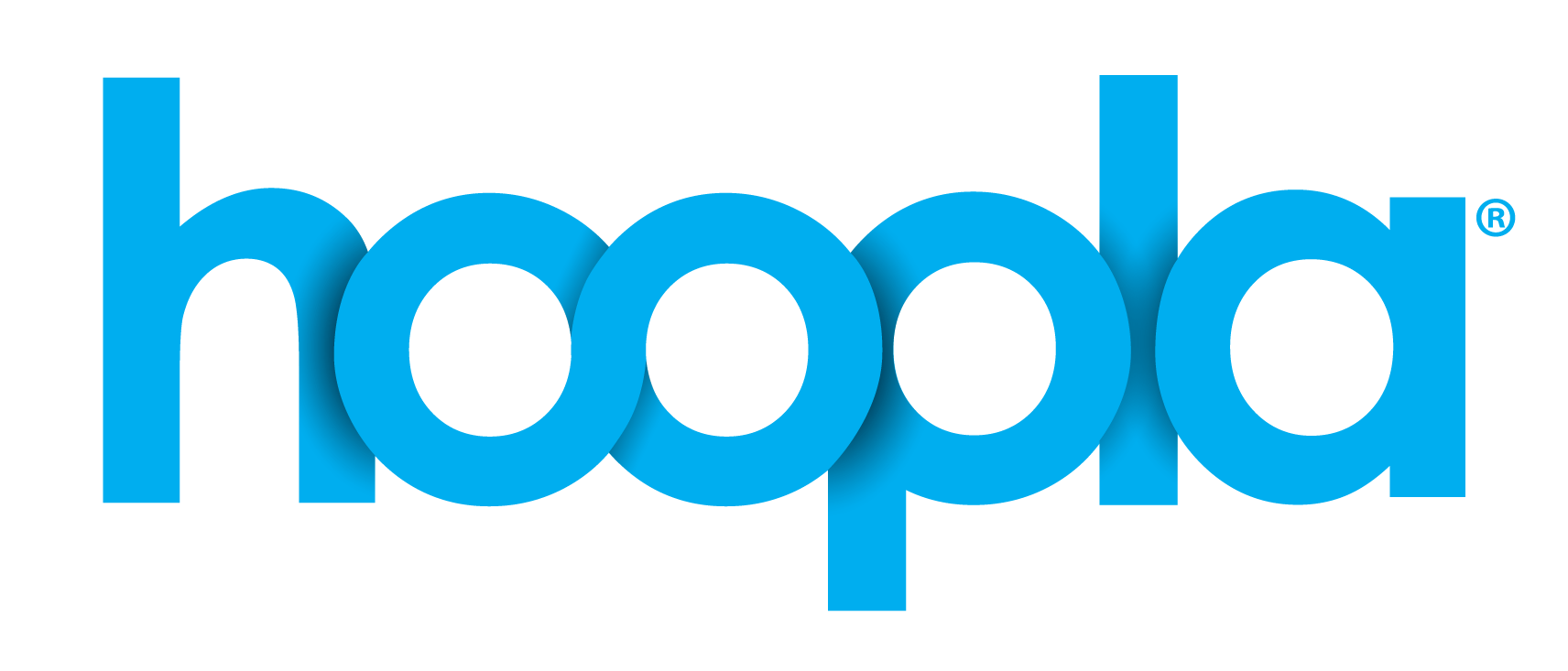 Beginning December 29, 2020, library cardholders can register for Hoopla a digital service allowing patrons to download and stream videos, music, ebooks, and more to their computers, smartphones, and tablets. For more information, Please click the button below.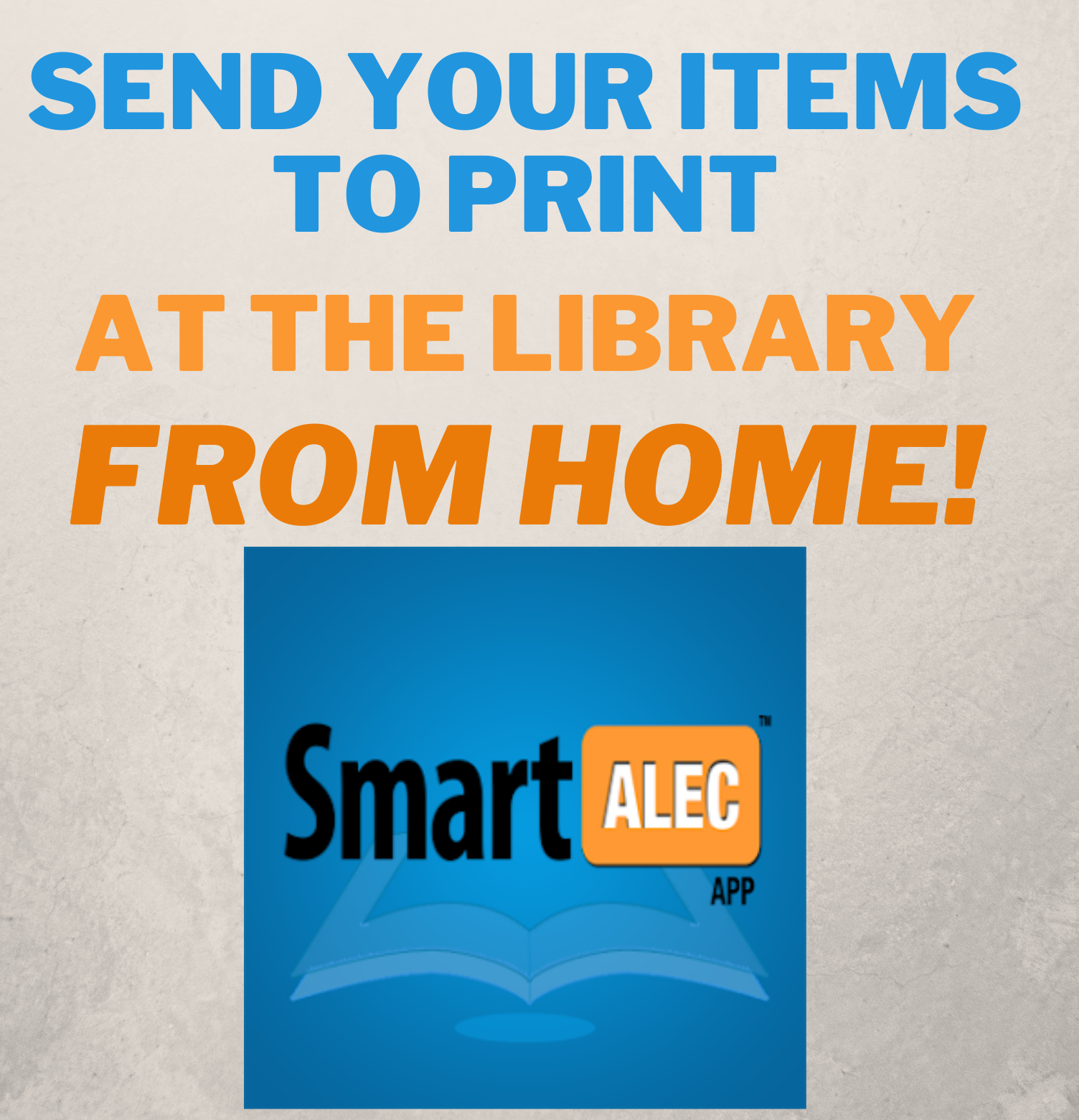 Patrons can now print from home or any device by using SmartAlec our new web-based print management service. Simply send your documents through SmartAlec and print them when you come into the library using your library card. Click the button below or download the SmartAlec App on your Android or iPhone to continue
The COVID-19 vaccination is available at several locations in Nassau County. Information about getting vaccinated including current elligibility information is available by clicking the button below
Check Out Our Fall Hours
THE LIBRARY IS RE-OPENING FOR CONTACT-LESS PICKUP ON JUNE 29TH
We are happy to announce that beginning on Monday, June 29, 2020, the Westbury Memorial Public Library will offer contact-less pickup on weekdays, Monday through Friday, from 9:30 am – 8:30 pm. To reserve items, please call the Library at 516-333-0176 and tell us what you are looking for, or visit the Library website at www.westburylibrary.org. If you are unsure of what you would like to read or view, our librarians will be happy to help you make a selection. Once your items are ready to be picked up, we will call you and check them out to you.
Patrons should call the Library upon their arrival to pick-up material so that a staff member can bring the requested library materials to the table that will be set up outside each library. The items will be placed on the tables for contact-less pick-up. A monitor will be present to ensure that this process goes smoothly.
Please note that we will only be able to provide items that are part of the Westbury Memorial Public Library catalog as long inter-library loan services remain suspended. We will be determining when the libraries can be re-opened to patrons and when other services can be provided based upon our ability to comply with government directives. We certainly hope that the Library can be fully operational as soon as possible. Thank you for your understanding and your continued support.
The Board of Trustees
Judy Gerrard, President
Denise Parillo, Vice President
Marie Rousseau, Trustee
Shirley Darkeh, Trustee
Carmen Lloyd, Trustee
Keep an eye out for more information about our 2020 budget.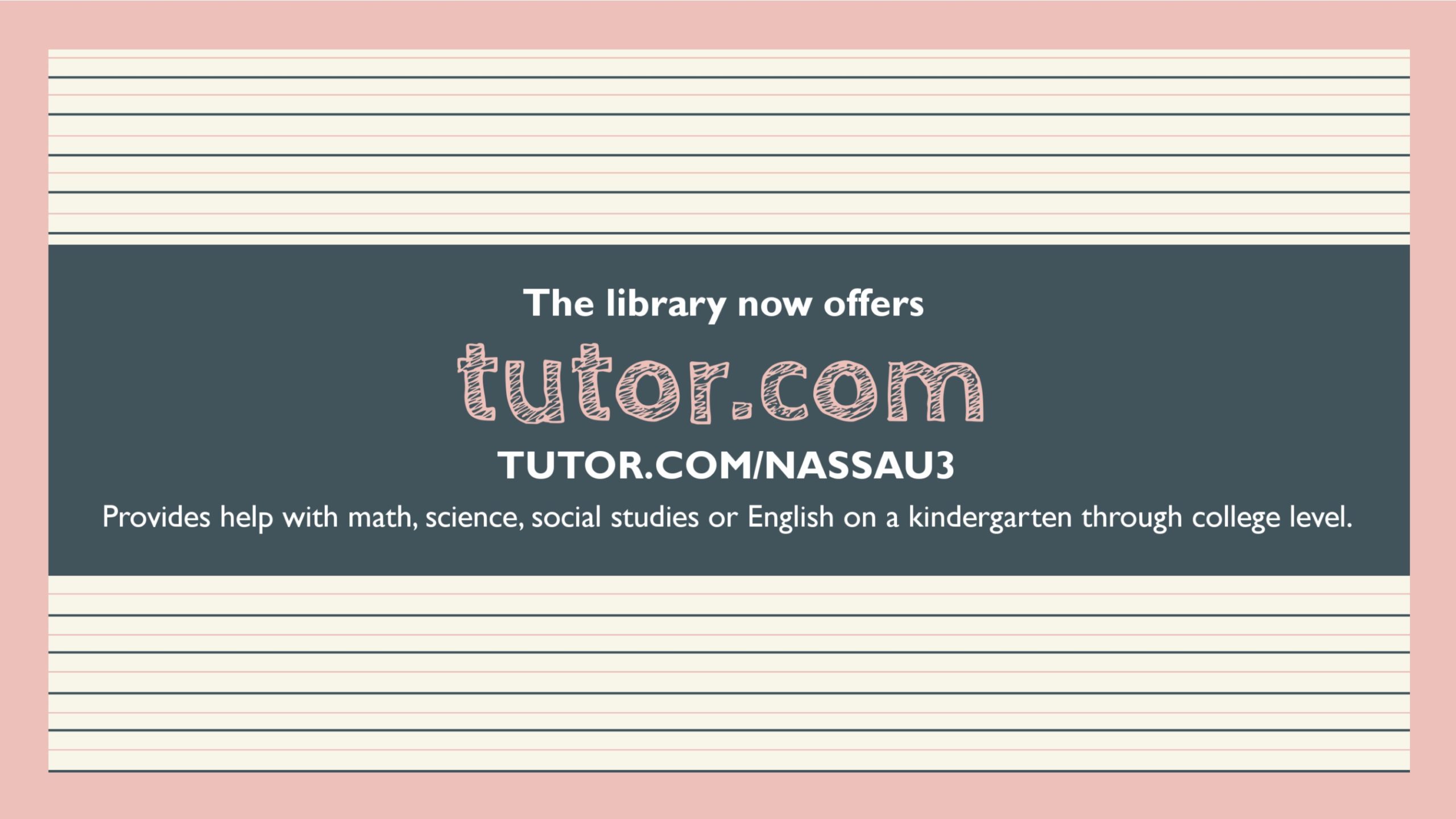 Highlight: Databases
Tutor.com provides help with math, science, social studies or English on a kindergarten through college level.
Check out Tutor.com, or browse our many free databases!
"On January 21, 2008, a routine medical procedure left Mallory Weggemann paralyzed from her waist down. Less than two years later, Mallory had broken eight world records, and by the 2012 Paralympic Games, she held fifteen world records and thirty-four American records. Two years later a devastating fall severely damaged her left arm, yet Mallory refused to give up. After two reconstructive surgeries and extended rehab, she won two golds and a silver at the 2019 World Para Swimming Championships. And perhaps most significantly, she found confidence, independence, and persevering love as she walked down the aisle on her wedding day.
Mallory's extraordinary resilience and uncompromising commitment to excellence are rooted in her resolve, perseverance, and sheer grit. In this remarkable new book, Mallory shares the lessons she learned by pushing past every obstacle, expectation, and limitation that stood in her way, including the need to:
redefine limitations;
remember that healing is not chronological;
be willing to fail;
and embrace your comeback.
Mallory's story reminds us that whatever circumstances we face, we have the capacity to face down whatever challenges, labels, or difficulties confront us–and to do so on our own terms."
"In 1967, Coffee, Tea, or Me? The Uninhibited Memoirs of Two Airline Stewardesses captured the world's imagination with tales of amorous adventures. Decades later, Donald Blain revealed that as a publicist for American Airlines, he actually wrote the book and its sequels, and two female flight attendants were hired to pose as the authors for book tours. Although the stunt sounds like something from "Mad Men," readers fell for it hook, line and sinker, casting an indelible reputation on the profession.
"The industry saw no reason not to capitalize on male fantasy," writes Julia Cooke in the fascinating Come Fly the World: The Jet-Age Story of the Women of Pan Am. Cooke has created a sweeping account of not only the airline industry and its cultural history but also women's evolution in the workforce. She blends an overview of the job with the personal stories of several (real!) flight attendants, dispelling ludicrous myths and showing how Pan Am presented adventurous, curious women with a way to see the world at a time when their opportunities were limited.
Stewardess positions were so coveted in the 1960s that in 1968, over 266,000 women applied for 12,000 spots in the American airline industry. Many of these young women, such as biology major Lynne Totten from upstate New York, saw the job as an exciting chance to try something new. Years later, when a male passenger spotted Totten reading an issue of Scientific American, he suggested that Vogue might be a better choice. She quickly set him straight, but Totten was hardly an anomaly. As Cooke points out, "throughout the 1960s, 10 percent of Pan Am stewardesses had attended graduate school at a time when only 8 percent of American women had graduated from college."
Despite the unparalleled opportunities offered by Pan Am, these stewardesses had to pave their own way, fighting against weight and height limits, age ceilings, marriage bans, racism and other glass ceilings that prevented them from being offered management positions.
An entertaining and informative narrator, Cooke has a big story to tell and excels at painting her panorama in broad strokes. At times, however, readers may find themselves wishing for a few more anecdotes, as well as more direct quotations from the women she profiles. Nonetheless, many of her accounts are memorable, especially those involving Pan Am's flights to Vietnam, which Cooke covers extensively and in which young American men reading Archie comics were dropped off, many to never return.
Come Fly the World is an eye-opening account of female flight attendants' successes and struggles in the not-so-distant past."
"Award-winning journalist Elizabeth Becker turns her insightful gaze on three women who covered the Vietnam War in You Don't Belong Here. Becker, who has firsthand experience of Southeast Asia and the challenges facing women in the field of journalism, begins her book with a personal anecdote. In 1973, while she was on her way to Cambodia to become a war correspondent at the age of 25, Becker met Kate Webb, a New Zealand-born Australian journalist who had survived capture by the North Vietnamese. Webb posed one question to the young reporter: Why had she crossed the ocean to cover a war?
Becker's examination of three journalists' careers—Webb, Frances FitzGerald from America and Catherine Leroy of France—powers this absorbing narrative about the challenges of covering the Vietnam War. As Becker explores the significance of these women's legacies, she notes that "it took us decades to understand what we had accomplished as women on the front line of war."
A few women (such as World War II reporter Martha Gellhorn, who stowed away on a hospital ship on D-Day) had done their best to report on wars in the past, but the United States military didn't make it easy for women seeking to be war correspondents. Up until the war in Vietnam, women were forbidden on the battlefield. Even after that changed, news organizations still sent male journalists as a matter of course, with the result that most of the women covering the Vietnam War had to pay their own way and fight to stay.
Many of these barriers were eventually broken, thanks in part to the extraordinary women Becker profiles so adroitly here, combining their personal histories with the major events of the conflict. Leroy, a French photojournalist who died in 2006, was an experienced parachutist who used her skills to cover a parachute jump into combat and whose searing images appeared in Life magazine. Webb was one of the few journalists on the Navy command ship when the order to evacuate came, and she was able to file a report on April 30, 1975, the very day the war ended. FitzGerald later wrote a book about her experience on the ground, Fire in the Lake, which looked at the history of Vietnam and its people and won both the Pulitzer Prize and a National Book Award.
As to the question Webb posed to the author, perhaps it was best answered by Leroy, who once said, "I wanted to be there, to see it happen." You Don't Belong Here is a significant contribution to the history of both the Vietnam War and women in journalism."