The Library will be open for CURBSIDE PICKUP ONLY effective Monday,June 29th 2020.
We will continue to monitor local, state, federal, CDC, and WHO guidelines and will keep you abreast of all pertinent information. We appreciate everyone's patience during these trying times.
Thank you! Our 2020-2021 library budget was passed! For more information, please visit our Budget Information page.
The next meeting of the Westbury Library Board of Trustees will be on Thursday July 16th at 7:00 PM via zoom
Meeting Details:
Meeting ID: 930 7068 2941
Link: https://zoom.us/j/93070682941
You may also join the meeting via telephone using this phone number:
+1 646 558 8656
The character of Harry Potter was born in 1980, and that means that this summer, on July 31, Harry Potter will turn 40! To celebrate, we are reading one Harry Potter book per month until his birthday. We would love for you and your family to join us.
We will post discussion questions here each month.
The first post will be general discussion question about that month's book. For these discussions we ask that the chat stay within the events of that book. No spoilers!
A little bit later in the month, we will introduce a second post where overarching themes in the series and theories can be discussed. Let spoilers fly!
We encourage families to use these discussion questions to foster conversation, and to create and follow their own rules regarding message boards on the internet. Grownups can use our forum to share their family's revelations, or to take a break from the little ones and engage with other fans on your own terms.
Are you a first-timer or a Hogwarts expert? Either way, we are excited for you to go on this magical journey!
Thank you to everyone who voted! Our library budget was passed!
For more information on the budget, click here.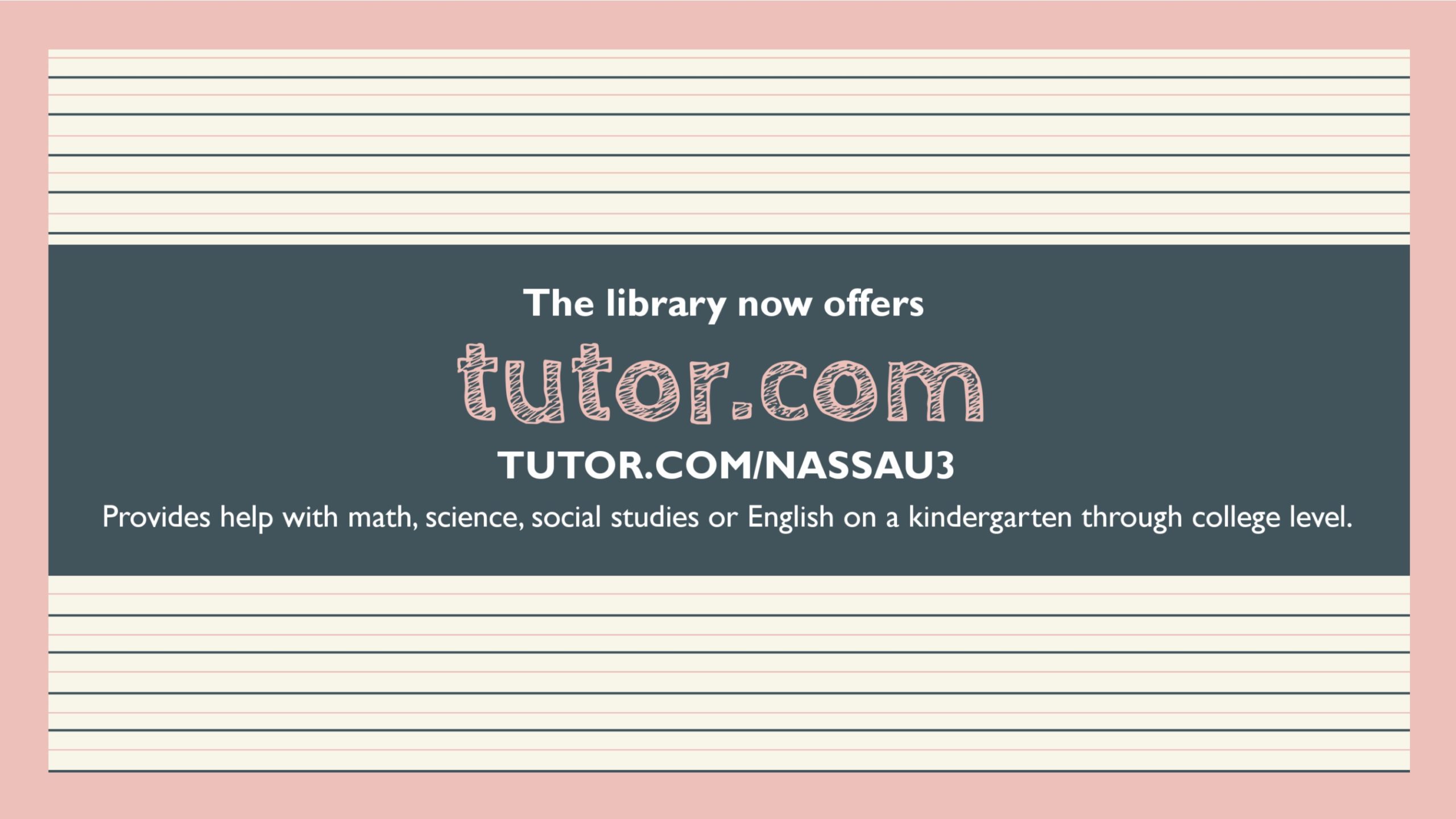 Highlight: Databases
Tutor.com provides help with math, science, social studies or English on a kindergarten through college level.
Check out Tutor.com, or browse our many free databases!
"Don and Mimi Galvin seemed to be living the American dream. After World War II, Don's work with the Air Force brought them to Colorado, where their twelve children perfectly spanned the baby boom: the oldest born in 1945, the youngest in 1965. In those years, there was an established script for a family like the Galvins–aspiration, hard work, upward mobility, domestic harmony–and they worked hard to play their parts. But behind the scenes was a different story: psychological breakdown, sudden shocking violence, hidden abuse. By the mid-1970s, six of the ten Galvin boys, one after another, were diagnosed as schizophrenic. How could all this happen to one family?
What took place inside the house on Hidden Valley Road was so extraordinary that the Galvins became one of the first families to be studied by the National Institute of Mental Health. Their story offers a shadow history of the science of schizophrenia, from the era of institutionalization, lobotomy, and the schizophrenogenic mother to the search for genetic markers for the disease, always amid profound disagreements about the nature of the illness itself. And unbeknownst to the Galvins, samples of their DNA informed decades of genetic research that continues today, offering paths to treatment, prediction, and even eradication of the disease for future generations.
With clarity and compassion, bestselling and award-winning author Robert Kolker uncovers one family's unforgettable legacy of suffering, love, and hope."
e-Book/e-Audio available on Libby App
"The Hotel Caiette, the glass hotel of the title, is a super luxury hotel in a remote corner of Vancouver Island, a "five-star experience where your cell phone doesn't work." A young local woman named Vincent winds up working there as a bartender after some youthful bohemian years off the island. She is smart, witty and elegant. She catches the eye of Jonathan Alkaitis, the investment-fund mogul who owns the hotel and who soon invites her to become, essentially, his trophy wife. It's a transaction she accepts. She moves to a posh house in Connecticut and thrives among the uber-wealthy. But it turns out that Alkaitis is running a Bernie Madoff-style Ponzi scheme. When it collapses, Vincent eventually begins a third life as an itinerant cook on an international container ship.
Mandel's narrative does not unfold as directly and cleanly as this summary suggests. Rather, the story circles through time, deepening with each pass. This is one of its wonders. Another is how lively and sometimes mysterious the novel's minor characters are. Vincent's half-brother Paul, for instance, doesn't steal money but instead appropriates an essential part of Vincent's creative being. Alkaitis' beloved older brother was a talented artist who died of a drug overdose, and that shapes Alkaitis' interactions with one of his more vulnerable investors, an artist who painted a portrait of the brother. The wily Mandel even brings back characters from Station Eleven to playfully suggest that we are reading about a parallel universe.
Mandel is a vivid and observant storyteller. Some small observations make you laugh out loud. For example, that you can distinguish wealthy people from the Western U.S. from wealthy people of New York, because the former are prematurely weathered from all their skiing. But other observations are more somber. As Mandel writes, "There are so many ways to haunt a person, or a life." In this novel, the hauntings are literal and metaphorical.
The Glass Hotel is a dark, disturbing story but also an enthralling one."
e-Book available on LIbby App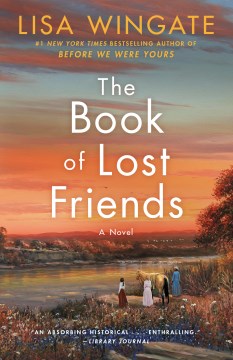 "Bestselling author Lisa Wingate brings to life startling stories from actual Lost Friends advertisements that appeared in Southern newspapers after the Civil War, as newly freed slaves desperately searched for loved ones who had been sold away.
Louisiana, 1875: In the tumultuous era of Reconstruction, three young women set off as unwilling companions on a perilous quest: Hannie, a freed slave; Lavinia, the pampered heir to a now destitute plantation; and Juneau Jane, Lavinia's Creole half sister. Each carries private wounds and powerful secrets as they head for Texas, following roads rife with vigilantes and soldiers still fighting a war lost a decade before. For Lavinia and Juneau Jane, the journey is one of stolen inheritance and financial desperation, but for Hannie, torn from her mother and siblings before slavery's end, the pilgrimage west reignites an agonizing question: Could her long-lost family still be out there? Beyond the swamps lie the limitless frontiers of Texas and, improbably, hope.
Louisiana, 1987: For first-year teacher Benedetta Silva, a subsidized job at a poor rural school seems like the ticket to canceling her hefty student debt until she lands in a tiny, out-of-step Mississippi River town. Augustine, Louisiana, is suspicious of new ideas and new people, and Benny can scarcely comprehend the lives of her poverty-stricken students. But amid the gnarled live oaks and run-down plantation homes lie the century-old history of three young women, a long-ago journey, and a hidden book that could change everything."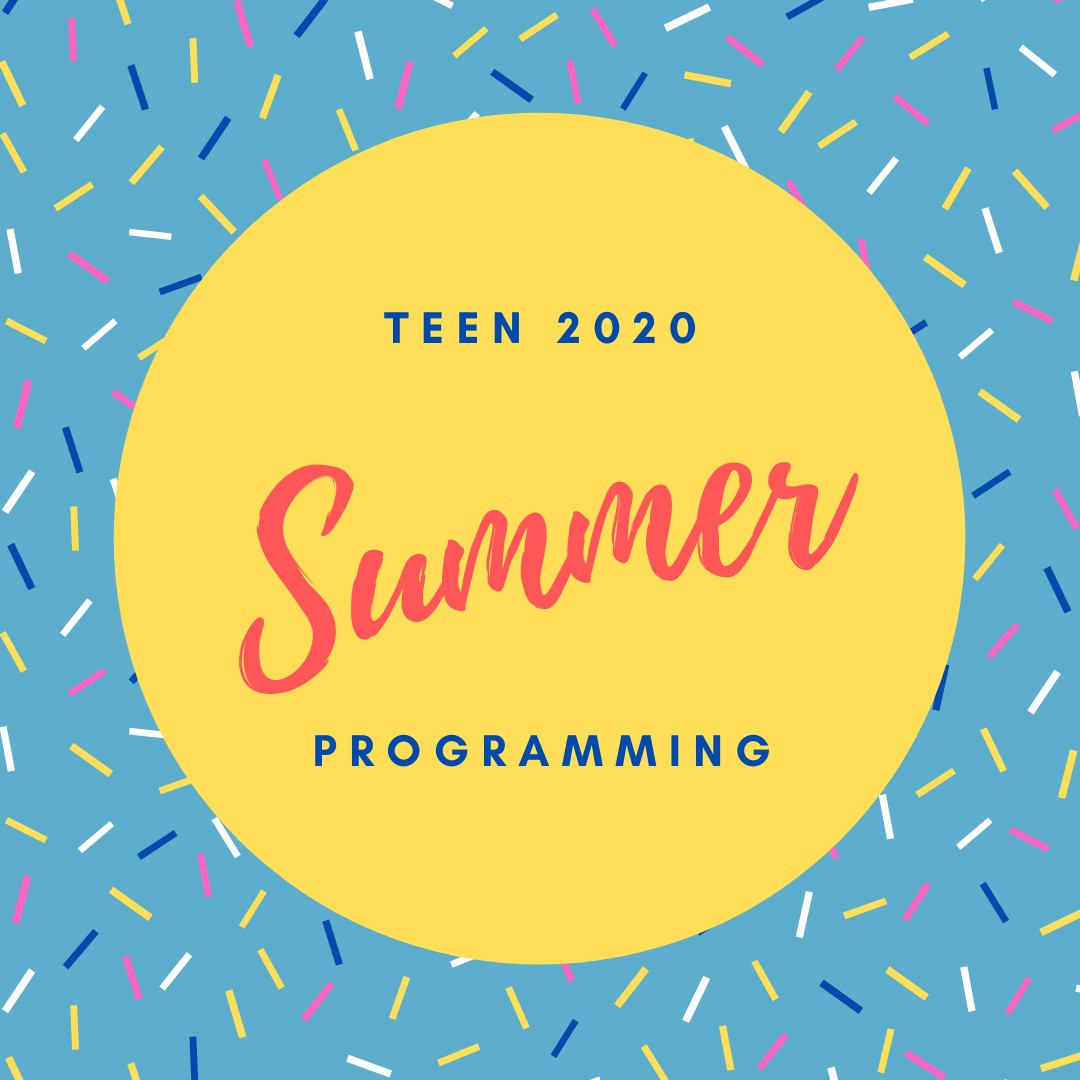 Our July/August teen programming will all be hosted virtually via Zoom. Please check out our Teen Programming page for information on our summer offerings and how to register!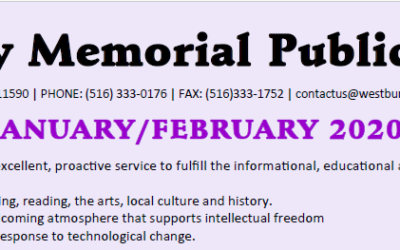 Our January/February newsletter is now available! View our Upcoming Programs page, or view the PDF directly! Registration for Westbury and Carle Place residents begins December 23, 2019. Don't forget to check out our Children's Programs as well!
read more
All March movies have been cancelled until further notice. We will keep you updated on any new information going forward.