Effective March 17, 2020, UNTIL FURTHER NOTICE, the Library will be closed to the public.
We will continue to monitor local, state, federal, CDC, and WHO guidelines and will keep you abreast of all pertinent information. We appreciate everyone's patience during these trying times.
Budget Vote: Postponed
Our Budget Hearing and Vote have been postponed. The new dates are as follows:
– Budget Hearing: June 16, 2020 at 7:00 pm
– Budget Vote: June 23, 2020 from 9:00 am – 9:00 pm
We will continue to keep you updated and thank you for your patience and understanding.
Yer a wizard…
Harry Potter and the Sorcerer's Stone is the first book in the Harry Potter series. In it, the author, JK Rowling, introduced us to many of the characters, places and themes that we will see in the next 6 books.
Harry Potter is an orphan sentenced to living with his mean Aunt Petunia and Uncle Vernon, and their spoiled child, Dudley. On his eleventh birthday, Harry learns that not only does he have magical powers, but he will learn how to use them at Hogwarts School of Witchcraft and Wizardry. With this discovery, Harry's world is completely changed. In the Wizarding world he is famous for being the one person who could not be killed by nefarious dark wizard, Voldemort. While at Hogwarts, Harry makes friends, begins to learn about his parents, and finds most of his teachers to be friendly and supportive. But not everyone is happy Harry has returned to this world…
We hope you had a great time reading the first book in this exciting series, and will join us in reading the next installment, Harry Potter and the Chamber of Secrets! Discussions for book #2 will be up in the middle of February. But for now, please enjoy discussing the events of this book in the comments!
Did you like this book? Hate it? Did it remind you of something you've read or seen before?
Which places in the book would you like to visit?
If you could hear this same story from another person's point of view, who would you choose?
Were you surprised at what happened with Professor Quirrell? Were you suspicious of anyone else?
You might belong in Gryffindor,
here dwell the brave at heart,
Their daring, nerve, and chivalry
Set Gryffindors apart;
You might belong in Hufflepuff,
Where they are just and loyal,
Those patient Hufflepuffs are true
And unafraid of toil;
Or yet in wise old Ravenclaw,
if you've a ready mind,
Where those of wit and learning,
Will always find their kind;
Or perhaps in Slytherin
You'll make your real friends,
Those cunning folks use any means
To achieve their ends.
When the kids arrive at Hogwarts, the Sorting Hat sings a song describing the 4 Houses- Gryffindor, Slytherin, Hufflepuff and Ravenclaw- and their members. What House would you be sorted into?
What did we miss? Is there anything you would like to discuss or any questions you and your family had? Did you have a favorite quote or a favorite scene?
Please introduce them in the comments.
We ask library patrons under 13 to participate in these discussions with adult supervision. We would like to encourage families to incorporate discussion questions into their at-home book chats. Discussions are open to first time readers, and super-fans, so please limit spoilers to the book currently being discussed and previous ones only.  There will be a second post, later in the month for overarching theories and ideas, and for connecting what happens in this book to events in future installments.
Please be respectful.
The character of Harry Potter was born in 1980, and that means that this summer, on July 31, Harry Potter will turn 40! To celebrate, we are reading one Harry Potter book per month until his birthday. We would love for you and your family to join us.
We will post discussion questions here each month.
The first post will be general discussion question about that month's book. For these discussions we ask that the chat stay within the events of that book. No spoilers!
A little bit later in the month, we will introduce a second post where overarching themes in the series and theories can be discussed. Let spoilers fly!
We encourage families to use these discussion questions to foster conversation, and to create and follow their own rules regarding message boards on the internet. Grownups can use our forum to share their family's revelations, or to take a break from the little ones and engage with other fans on your own terms.
Are you a first-timer or a Hogwarts expert? Either way, we are excited for you to go on this magical journey!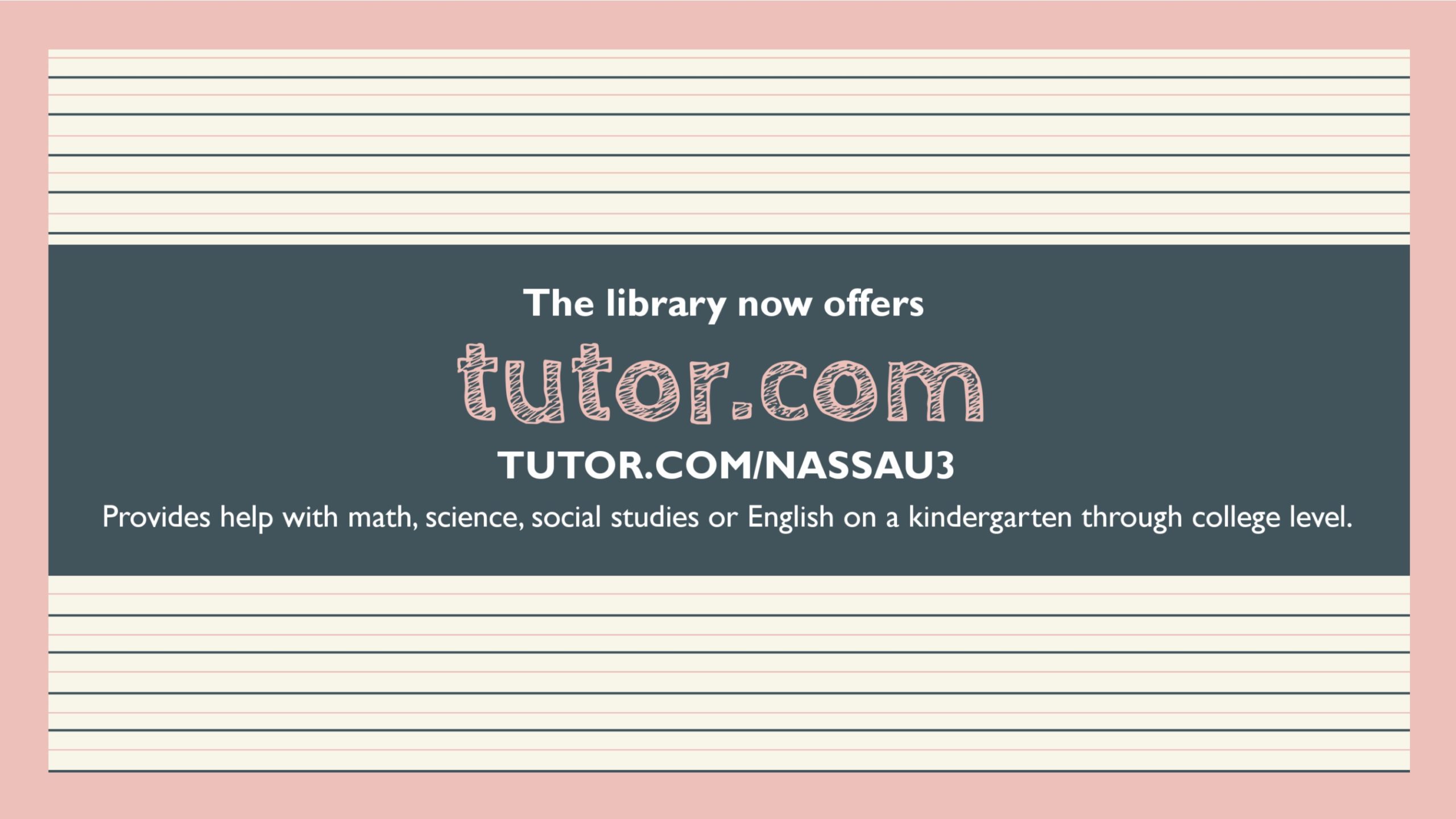 Highlight: Databases
Tutor.com provides help with math, science, social studies or English on a kindergarten through college level.
Check out Tutor.com, or browse our many free databases!
"A story of fighting to belong in a world that wasn't built for all of us and of one woman's activism—from the streets of Brooklyn and San Francisco to inside the halls of Washington—Being Heumann recounts Judy Heumann's lifelong battle to achieve respect, acceptance, and inclusion in society.
Paralyzed from polio at eighteen months, Judy's struggle for equality began early in life. From fighting to attend grade school after being described as a "fire hazard" to later winning a lawsuit against the New York City school system for denying her a teacher's license because of her paralysis, Judy's actions set a precedent that fundamentally improved rights for disabled people.
As a young woman, Judy rolled her wheelchair through the doors of the US Department of Health, Education, and Welfare in San Francisco as a leader of the Section 504 Sit-In, the longest takeover of a governmental building in US history. Working with a community of over 150 disabled activists and allies, Judy successfully pressured the Carter administration to implement protections for disabled peoples' rights, sparking a national movement and leading to the creation of the Americans with Disabilities Act.
Candid, intimate, and irreverent, Judy Heumann's memoir about resistance to exclusion invites readers to imagine and make real a world in which we all belong."
"Although there are more women CEOs today than there were at the beginning of the 1970s, complaints of workplace harassment and threats toward women who speak out have remained largely unchanged. But author and activist Mikki Kendall explains that the feminist movement has an even larger failure to contend with: the way that it has left behind women of color as white women grab more power. Hood Feminism: Notes From the Women That a Movement Forgot critiques the dangers of this exclusionary brand of feminism and exhorts those who support changing it for the better.
Throughout the book, Kendall points toward political arenas that historically haven't been tied to feminism, like food insecurity, gun violence and access to education—issues that largely affect communities of color. Kendall not only details the ways in which ignoring these issues has turned feminism into white feminism but also explains how these missteps have resulted in the failure of feminism as a whole. She convincingly demonstrates how this exclusionary behavior, intended to protect the interests of white women who "cling to the agency and selfhood they feel they have fought so hard to achieve," in fact results in an outcome that threatens those interests: a strengthening of the patriarchy that actively works against the goal of equality.
Hood Feminism addresses a world that has abandoned marginalized people in favor of creating more opportunity for those who are already in power. For Kendall, the work of feminism is not the achievement of female success but rather the achievement of a larger ideal: genuine equality. If that is the goal, the work of feminism is far from over.
In fact, with rising income inequality, surging gentrification and shrinking social services, the work of feminism has only just begun."
"In 2016, Pakistan's first social media celebrity, Qandeel Baloch, was murdered in a suspected honor killing. Her death quickly became a media sensation. It was both devastatingly routine and breathtakingly brutal, and in a new media landscape, it couldn't be ignored.
Qandeel had courted attention and outrage with a talent for self-promotion that earned her comparisons to Kim Kardashian—and made her the constant victim of harassment and death threats. Social media and reality television exist uneasily alongside honor killings and forced marriages in a rapidly, if unevenly, modernizing Pakistan, and Qandeel Baloch's story became emblematic of the cultural divide.
In this definitive and up-to-date account, Sanam Maher reconstructs the story of Qandeel's life and explores the depth and range of her legacy from her impoverished hometown rankled by her infamy, to the aspiring fashion models who follow her footsteps, to the Internet activists resisting the same vicious online misogyny she faced. Maher depicts a society at a crossroads, where women serve as an easy scapegoat for its anxieties and dislocations, and teases apart the intrigue and myth-making of the Qandeel Baloch story to restore the humanity of the woman at its center."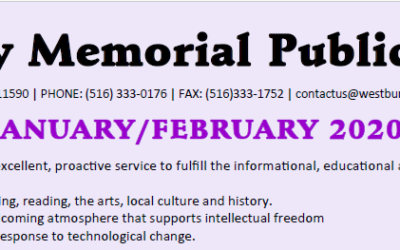 Our January/February newsletter is now available! View our Upcoming Programs page, or view the PDF directly! Registration for Westbury and Carle Place residents begins December 23, 2019. Don't forget to check out our Children's Programs as well!
read more
All March movies have been cancelled until further notice. We will keep you updated on any new information going forward.