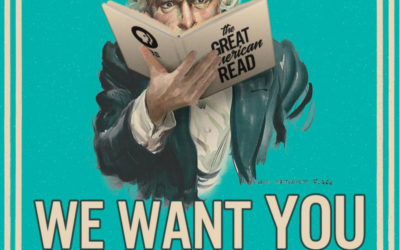 WMPL is inviting the community to help us vote in The Great American Read! Come into the library and check out our book display featuring a selection of some of the 100 books America loves the most. Cast your vote and when it's finished, we'll know not only which book...
read more
"Haben Girma was born deafblind in California, to refugee parents forced to flee war-torn Eritrea. While her mother and father struggled to cope as immigrants, Girma simply yearned to belong—"a deafblind girl in a sighted, hearing world." As her vision and hearing continued to fade and her parents grew increasingly cautious, Girma fought for her independence. Against their wishes, she went to Mali to help build a schoolhouse, left home for college in Portland, Oregon, and moved across the country for Harvard Law School. Along the way, she found new ways to manage her disabilities, through technology, teamwork and self-education that included a "blindness boot camp." Today Girma speaks from a global stage, advocating for improved access to education and services for disabled people. In her often hilarious and utterly inspiring memoir, Haben: The Deafblind Woman Who Conquered Harvard Law, she shares her trials and triumphs."
Click here for availability- Book on CD
"A Pure Heart grapples with the question of how to be many things at once—a condition that afflicts everyone but requires only some to justify their complexities.
Rajia Hassib's novel follows the divergent lives of two Egyptian sisters, Rose and Gameela Gubran. Rose, an Egyptologist, falls for an American journalist and moves with him to New York. Gameela remains in Egypt, embraces Islam and marries a much older man. The story begins in the aftermath of Gameela's death due to a suicide bombing during the chaotic years following Egypt's failed revolution. Slowly, Hassib charts the events leading up to this conclusion, working her way backward through a series of intertwined lives in both Egypt and America.
Hassib is especially talented at rendering the small details of daily Egyptian life—not in some exoticized fashion but rather as a foundation on which to lay the wide variety of experiences, ideologies and aspirations of the country's citizenry. These details, found throughout the book, shine. A description of habitual lateness, for example: "What are a few minutes here or there in a country that's been around for seven thousand years?" There is some hand-holding—not a single Arabic phrase or idiom goes unexplained for the benefit of the Western reader—but for the most part, it works."
"What kind of mom is Liz Astrof, who, when her son was born, quipped, "Don't take the tags off—we may not be keeping him"? She's a hilariously honest one who shares a series of personal essays in Don't Wait Up: Confessions of a Stay-at-Work Mom. A TV comedy writer ("The King of Queens," "2 Broke Girls" and more), she describes how endless hours in the writing room fill her with guilt about her family (strong-willed daughter; anxious, fact-spewing son; supportive husband), leaving her to wonder how much of her children's early years she's going to watch on an iPhone.
Interspersed with Astrof's domestic tales are moving, fascinating and, of course, amusing essays that explore her troubled upbringing. Her mentally unstable mother left when Astrof was 5. Amid the abuse, Astrof and her older brother, Jeff, would hide under the bed, murmuring "safe-safe" to each other. As an adult, Astrof constantly questions her parenting skills, fearing she might turn into her mother. In a stunning essay called "Happy New Year," Astrof finds herself coming to the rescue of her son in the midst of a meltdown, noting, "If I ever feared I was anything like my mother—which I did, every moment of every day—it was moments like this, moments of knowing what to do for my child and wanting to do them, that proved to me that I wasn't anything like her."
Don't Wait Up is a funny, fascinating memoir of mothering that will definitely keep readers up way past their bedtime, laughing and sometimes crying page after page."
"Caroline Shelby's life has been turned upside down. First, scandal destroys the promising clothing designer's budding career in New York. Then, Caroline's close friend dies suddenly, leaving her the legal guardian of her friend's two young children, Flick and Addie, a task for which she feels totally unprepared.
With nothing to keep her in New York, Caroline drives cross-country with her two grieving charges to Oysterville, Washington, the hometown she left years earlier and to which she never envisioned returning. There, she finds her family and town both familiar and changed. She must also face her first love, Will, who married her then-best friend, Sierra. Returning to the fabric shop where she discovered her love of design, Caroline slowly begins to rebuild her life and career and even discovers her mothering skills. She also assuages her guilt in failing to help her late friend by creating the Oysterville Sewing Circle, a group for women who've experienced abuse."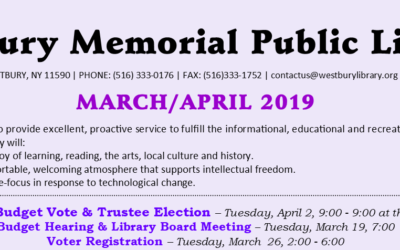 Our March/April 2019 newsletter is now available! View our Upcoming Programs page, or view the PDF directly! Registration for Westbury and Carle Place residents begins February 25, 2019. Don't forget to check out our Children's Programs as well!
read more