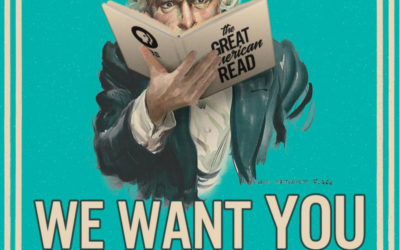 WMPL is inviting the community to help us vote in The Great American Read! Come into the library and check out our book display featuring a selection of some of the 100 books America loves the most. Cast your vote and when it's finished, we'll know not only which book...
read more
"The story begins with a young girl walking out of her house one morning with no shoes or supplies. Her sister tries to stop her, then her father, then EMTs and police, but still she walks. She is the beginning of an apparent epidemic of "sleepwalkers" that form a flock who walk—expressionlessly and painlessly—across the United States. In the midst of this mysterious outbreak come a series of characters—a disgraced CDC official, a woman who built the world's most sophisticated artificial intelligence, a rock star, a preacher on the verge of crisis and the young girl's older sister—who all have roles to play in unraveling the mystery of what's to come. The walkers, you see, are just the beginning, and what follows is an American epic with the soul of the nation—and the world—at stake."
"Daniel Brook's The Accident of Color: A Story of Race in Reconstruction is fast-paced and intriguing, revelatory and provocative. Drawing deeply on archival materials, Brook brings to life the complex notions of race that developed in the years leading up to the Civil War and the ways that various forces diminished such complexity during Reconstruction, reducing race to the restrictive binary—individuals are either black or white—that dominates conversations about and practices surrounding race in America today.
Focusing primarily on Charleston, South Carolina, and New Orleans, Louisiana, Brook reveals that multiracial groups—Creoles of color in New Orleans and Browns in Charleston—worked to promote the liberty and equality promised to all men in the Declaration of Independence. For example, Creoles educated their children in private academies in New Orleans. Both in Charleston and New Orleans, multiracial people were prosperous landlords and hairstylists and business owners. These free people of color sometimes owned slaves, but following the Emancipation Proclamation, multiracial individuals often formed alliances with freedmen to work against white politicians' and landowners' attempts to legislate segregation based on race.
Along the way, we meet characters such as Pierre Gustave Toutant Beauregard of New Orleans and Francis Lewis Cardozo of Charleston, each of whom led groups of freedmen and free men of color and lobbied to be subject to the same laws that govern white men. By the end of Reconstruction, however, both states had established Jim Crow laws that rigidly defined race as either black or white, with black people determined as those with just one drop of African or Caribbean blood in their ancestry.
Brook's illuminating and lively study illustrates that, given the diverse heritage of America, it was never possible for races to be separate. He concludes that the racial binary is a social construct and that, in truth, American history is Creole history."
"The prolific duo of John Douglas and Mark Olshaker (Law & Disorder and Mindhunter, which was adapted for Netflix) return in The Killer Across the Table. Douglas, a retired FBI agent who spent his career interviewing and profiling criminals, proves his expertise in exploring the minds and murderous behaviors of four notorious killers. The aim of these interviews, Douglas states, "is not to be a friend. The aim is not to be a foe. The aim is to target the truth." Why did Joseph McGowan, a mild-­mannered high school teacher, brutally rape a neighbor's child delivering Girl Scout cookies? Would he do it again? Why did Donald Harvey, the hospital aid and "Angel of Death," kill as many as 87 patients in his care? Through painstakingly conducted interviews, ugly but useful answers emerge."
"The day Anna starts listening to the podcast called "Death and the Dana," her husband declares that he's leaving her for her best friend, Estelle, and the two of them are taking Anna's daughters on a vacation. In shock, Anna curls up in her marble hallway and hits play on "Death and the Dana." It tells the story of a father and his two kids who were killed when their yacht exploded off the shores of a swanky French island. When a familiar name is mentioned in the podcast, Anna is jolted from her misery. The dead man was a friendly guest at a hotel where Anna used to work. And the wife left behind is the woman who once almost killed Anna.Nearly at that very moment, Estelle's husband, a depressed former rock star named Fin, turns up on Anna's doorstep. Heartbroken and reeling, Anna and Fin set out to solve the mysteries of the Dana explosion—and maybe save Anna's life. To find answers, Anna and Fin go from Edinburgh to London to Venice to Paris."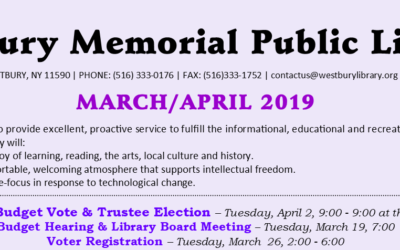 Our March/April 2019 newsletter is now available! View our Upcoming Programs page, or view the PDF directly! Registration for Westbury and Carle Place residents begins February 25, 2019. Don't forget to check out our Children's Programs as well!
read more