Welcome to our spoiler-iffic Sorcerer's Stone post! This post is for readers who have finished the series and are using this opportunity to revisit Hogwarts. If you have not read ahead, please wait to read the rest of this post. Questions, polls, comments, etc. may...
read more
Harry Potter and the Sorcerer's Stone Yer a wizard... Harry Potter and the Sorcerer's Stone is the first book in the Harry Potter series. In it, the author, JK Rowling, introduced us to many of the characters, places and themes that we will see in the next 6 books....
read more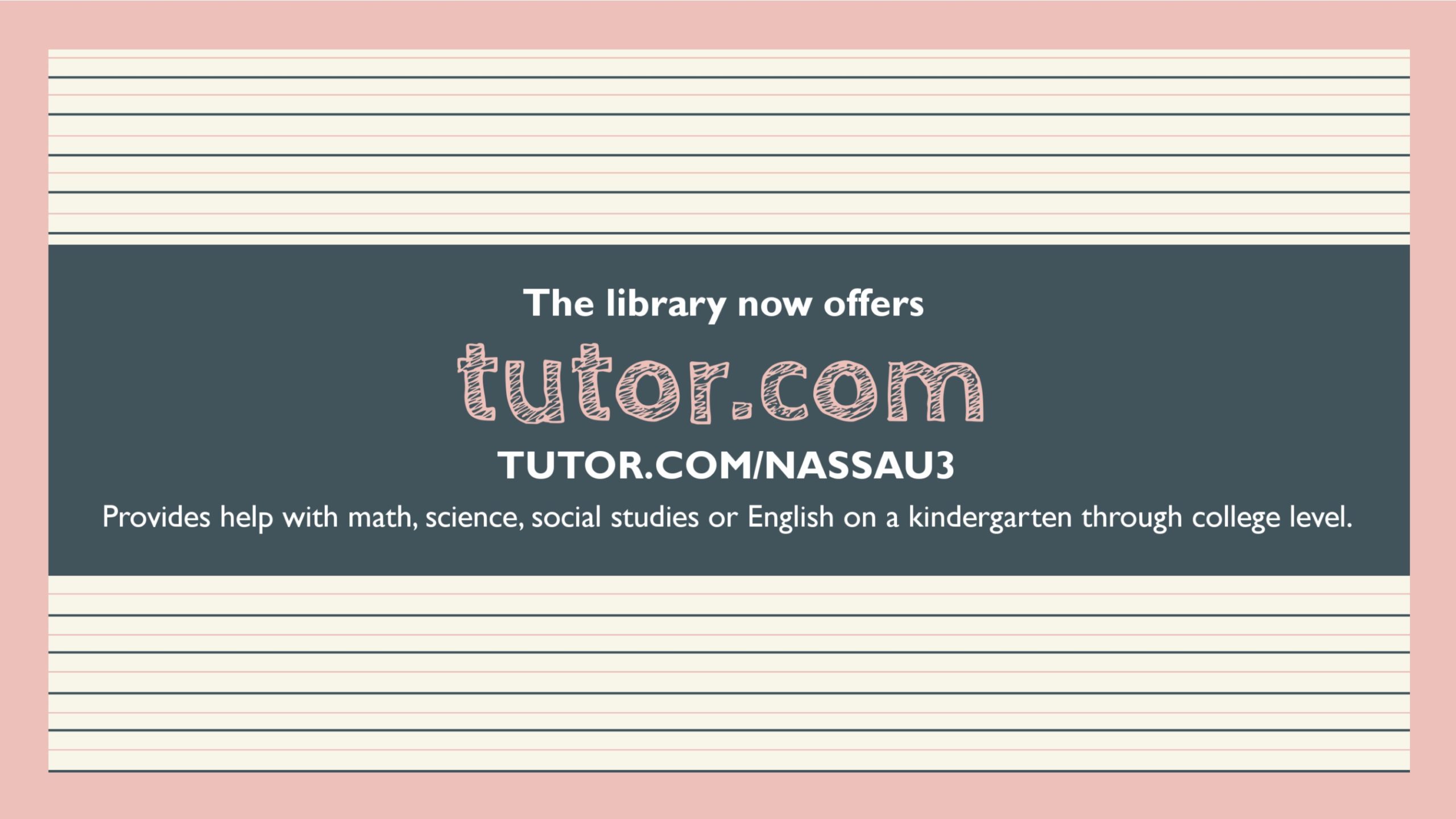 Highlight: Databases
Tutor.com provides help with math, science, social studies or English on a kindergarten through college level.
Check out Tutor.com, or browse our many free databases!
"For weeks, Rachel has been noticing the same golden-haired young man sitting at her Brooklyn bus stop, staring off with a melancholy air. When, one day, she finally musters the courage to introduce herself, the chemistry between them is undeniable: Thomas is wise, witty, handsome, mysterious, clearly a kindred spirit. There's just one tiny problem: He's dead.
Stuck in a surreal limbo governed by bureaucracy, Thomas is unable to "cross over" to the afterlife until he completes a 90-day stint on earth, during which time he is forbidden to get involved with a member of the living — lest he incur "regrets." When Thomas and Rachel break this rule, they unleash a cascade of bizarre, troubling consequences.
Set in the hallucinatory borderland between life and death, The Regrets is a gloriously strange and breathtakingly sexy exploration of love, the cataclysmic power of fantasies, and the painful, exhilarating work of waking up to reality, told with uncommon grace and humor by a visionary artist at the height of her imaginative power."
"It's hard not to feel a little bit envious of Erin Gleeson. The bestselling cookbook author spent three months traveling with her family through France, Portugal, Spain and Italy to research The Forest Feast Mediterranean: Simple Vegetarian Recipes Inspired by My Travels. It's as gorgeous as her previous books, awash in watercolor illustrations and bright vegetarian dishes that leap off the page into your sunniest kitchen dreams. Images of Gleeson and her family star alongside scenic shots from the region that inspired this book, but of course the real heroes are its 100 recipes, which include mouthwatering salads, decadent pastas and small shareables like caponata, a burrata bar, bruschetta, tartines, tartlets, tortilla espanola and pintxos, which are appetizers on long toothpicks, unique to the Barcelona bar scene. Best of all, there's a travel guide in the back in case you're hungry to follow in Gleeson's picturesque footsteps—and you will be."
"We go 350-odd years further back in time for Robert Harris' thriller The Second Sleep—to 1468, to be precise. Consider other terrific medieval mysteries as Umberto Eco's The Name of the Rose or Ross King's Ex-Libris, and get ready for an exceptionally intricate tale that will take you in unexpected directions and then pummel you when you get there. Cleric Christopher Fairfax is called upon to officiate at the interment of a parish priest. It's a simple enough task: Write a few words of banal praise and read the appropriate scriptures to usher the man to his final resting place. But Fairfax doesn't sleep well the night before and instead visits the dead man's library, where he happens upon all manner of heretical books that have been banned by church and state alike. Contrary to his upbringing, training and better judgment, Fairfax begins to read. At this point in the review, I am torn between revealing any more or just letting the reader unearth surprise after surprise until they begin to get a glimmering of what is really transpiring here. So, after some consideration, I will just leave you with this quote: "the ultimate symbol of the ancients' hubris and blasphemy, an apple with a bite taken out of it." Chew on that for a while . . ."
Nominating Petition for the Westbury Memorial Public Library Board of Trustees Download: Nominating Petition in English Petición nominativa en español
read more