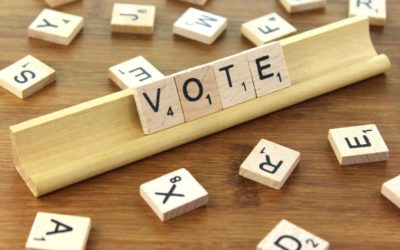 Did you know that September 25th is National Voter Registration Day? Through partnership with vote.org, we're bringing you these tools to make sure you're registered to vote! <iframe...
read more
"Elizabeth Taylor, Michael Jackson and Marlon Brando are driving out of Manhattan after a terrorist attack. What sounds like the opening of an urban myth is actually the zany plotline of "Escape from New York," one of 19 tales in Zadie Smith's first collection of short stories, Grand Union. These masterful tales impress, engage and occasionally infuriate as Smith brings her dazzling wit and acute sensitivity to bear. These stories are ready to grapple with the complex times we live in.
If anything serves this collection best, it's the humor that runs through the stories like a lazy river. All genres are Smith's to play with, from fables to science fiction to a realistic conversation between two friends. Even the few weaker efforts still brim with ideas and intelligence. No subjects are off-limits, from an older trans woman shopping for shapewear in "Miss Adele Amidst the Corsets" to a young mother remembering her sexual escapades in college in "Sentimental Education." Smith uses the third-person plural to fine effect in one of the collection's best, the parable "Two Men Arrive in a Village," which explores global politics without ever mentioning a politician or country by name.
Smith has explored the complexities of families and friendships in an urban setting over the course of five award-winning novels. Those themes are reflected in the delightful "Words and Music," in which the surviving sister of an elderly pair of siblings sits in a Harlem apartment, reminiscing about the music that shaped her life, and in "For the King," in which two old friends catch up over a decadent Parisian meal. Grand Union is bookended by two stories of mothers and daughters—one a vignette, the other a ghost story, both with a depth that far outweighs their brevity, something that can be truthfully said for each of these stories."
Click here for availability-Large Print  
"Here's a partial list of things I don't believe in: God. The Devil. Heaven. Hell. Bigfoot. Ancient Aliens. Past lives. Life after death. Vampires. Zombies. Reiki. Homeopathy. Rolfing. Reflexology. Note that 'witches' and 'witchcraft' are absent from this list. The thing is, I wouldn't believe in them, and I would privately ridicule any idiot who did, except for one thing: I am a witch."
For as long as Augusten Burroughs could remember, he knew things he shouldn't have known. He manifested things that shouldn't have come to pass. And he told exactly no one about this, save one person: his mother. His mother reassured him that it was all perfectly normal, that he was descended from a long line of witches, going back to the days of the early American colonies. And that this family tree was filled with witches. It was a bond that he and his mother shared–until the day she left him in the care of her psychiatrist to be raised in his family (but that's a whole other story). After that, Augusten was on his own. On his own to navigate the world of this tricky power; on his own to either use or misuse this gift.
From the hilarious to the terrifying, Toil & Trouble is a chronicle of one man's journey to understand himself, to reconcile the powers he can wield with things with which he is helpless. There are very few things that are coincidences, as you will learn in Toil & Trouble. Ghosts are real, trees can want to kill you, beavers are the spawn of Satan, houses are alive, and in the end, love is the most powerful magic of all."
"Hoffman's story begins in 1941 in Berlin, where a young Jewish mother, Hanni, knows that she must find a way to smuggle her daughter, Lea, out of the city before the Nazis take notice of her. To do this, she turns to a rabbi for mystical help, only to discover that his daughter, Ettie, is more willing to help Lea through magical means. Ettie, working from knowledge she's gained through observing her father, crafts a golem they call Ava to guide and protect Lea. Thus begins an unlikely and harrowing journey through France, where Ettie finds a new purpose, Lea finds her soul mate and Ava finds that she's much more than a single-minded creation.
In beautifully precise prose, Hoffman chronicles the experiences of these characters and those whose lives they touch along the way. Throughout the next three years of the war, each woman tries to survive while also pursuing her own process of self-discovery. Though Nazi-occupied France is an endlessly compelling place to many readers, Hoffman never takes her historical setting for granted. Rather than leaving us to lean on what we think we know, she weaves a fully realized vision of the hidden parts of history, chronicling the stories of people who slipped through the cracks on their way to freedom and the emotional toll that freedom took."
"There are two ways to write about a dam bursting. You can begin at the exact moment the cresting waters rupture the wall and surge toward freedom—or you can start long before that, with the first drops of rain that eventually overrun the embankments. In Unfollow, Megan Phelps-Roper chooses the second approach to explain why she left the notorious Westboro Baptist Church.
One of the most surprising aspects of this remarkable book is how loving the Westboro Baptist Church was—at least to its members in good standing. Phelps-Roper's childhood was idyllic in many ways. She was surrounded by caring, intelligent and passionate adults who adored her. By the age of 8, however, she was joining them in protesting against the LGBTQ community and being rewarded for spewing vile slogans. This strange juxtaposition defined her youth: Phelps-Roper went to school, shopped at the mall, ate popcorn at the movies—and then rushed out to picket the funerals of soldiers killed in Iraq or to publicly pray for more children to be shot after Newtown. By the time she was in her 20s, Phelps-Roper was in charge of the church's social media presence, using her formidable intellect to defend the reprehensible. And yet, throughout her book is an awareness that each incident contributed to the erosion of her faith in Westboro's theology.
It's ironic that the very qualities her family instilled in her—intellectual rigor, intimate knowledge of the Bible, courage in the face of fierce opposition—led to her inevitable departure. When she could no longer support either the church's theology of hatred or its belief in its own infallibility, she renounced them.
Phelps-Roper is a masterful writer. She writes movingly about the searing pain of separation from those she continues to love, and beautifully about how freeing herself from a theology of hate has given her life greater meaning and purpose. In a time of growing intolerance, Unfollow is essential reading."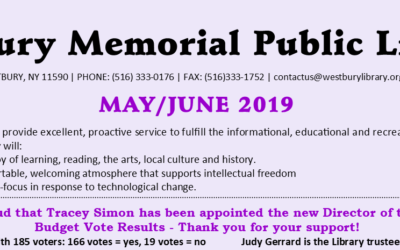 Our May/June 2019 newsletter is now available! View our Upcoming Programs page, or view the PDF directly! Registration for Westbury and Carle Place residents begins April 29, 2019. Don't forget to check out our Children's Programs as well
read more