We appreciate everyone's patience during these trying times. To reserve items, please call the Library at 516-333-0176
The Westbury Library Board of Trustees will be holding their next monthly board meeting on Thursday, May 20th at 7 pm
Or this phone number 1 646 558 8656 alongside this ID 948 6767 2055
The Westbury Library has added several tutorials to our Youtube channel. Our five newest videos, made with help from the Westbury High School National Honors Society help students and adults learn several smartphone and web applications for both scholastic and everyday use. Our Youtube channel with our Tutorial Playlist can be found Here. If there are any video suggestions that you would like the library to attempt please email us at contactus@westburylibrary.org and let us know.
Closing the digital divide was serious work before COVID-19. It is imperative now. While the effects of the coronavirus may be seen for some time and Americans isolate themselves at home, those without computers and the internet are cut off from libraries, essential services, from learning, from family and friends. The need is extreme. Donations of computers, tablets, and hotspots to the Westbury Memorial Public Library will be appreciated. They will be refurbished and given to students of lower-income families.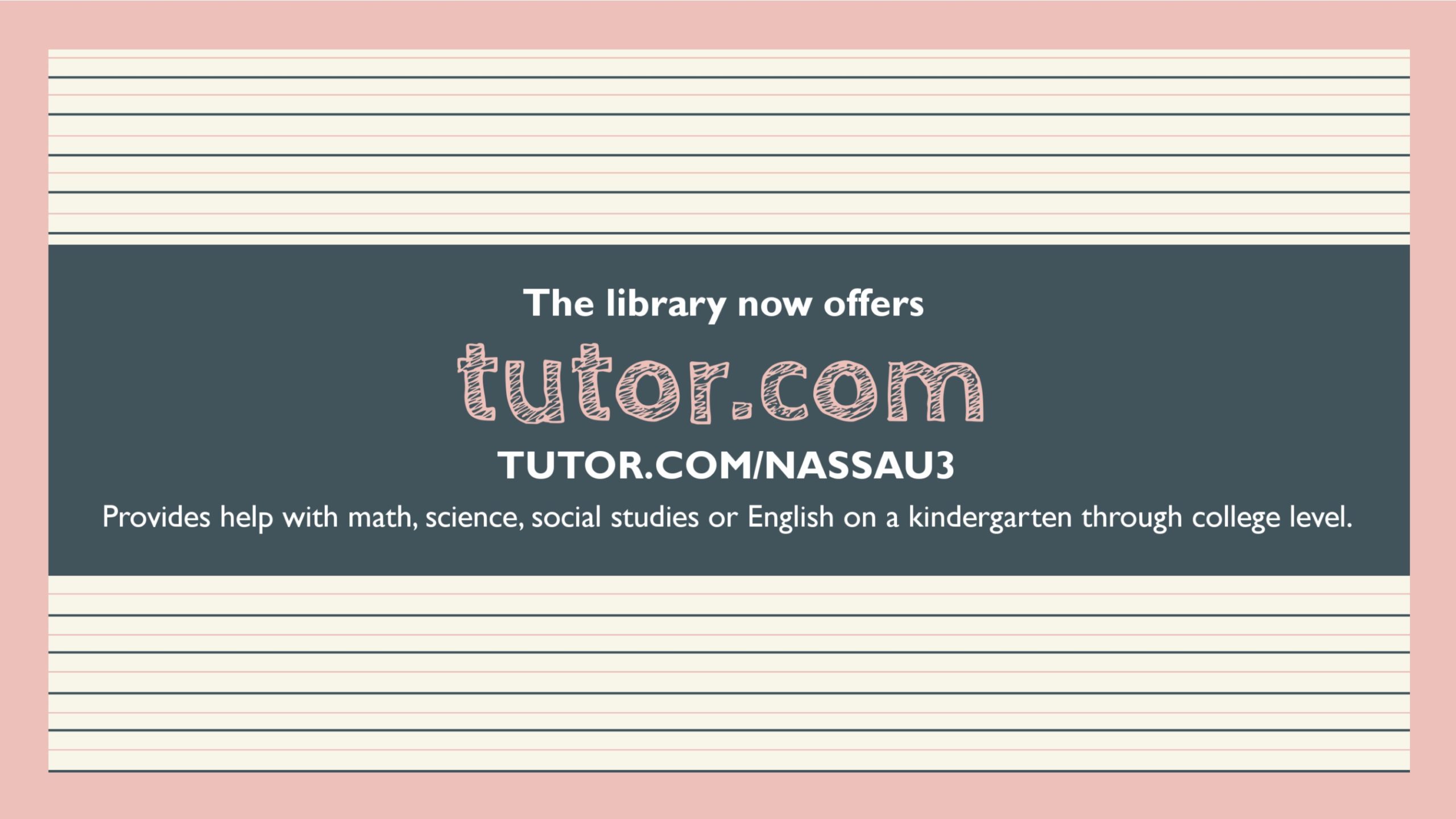 Highlight: Databases
Tutor.com provides help with math, science, social studies or English on a kindergarten through college level.
Check out Tutor.com, or browse our many free databases!
"One of nineteen children in a blended family, Hari Ziyad was raised by a Hindu Hare Kṛṣṇa mother and a Muslim father. Through reframing their own coming-of-age story, Ziyad takes readers on a powerful journey of growing up queer and Black in Cleveland, Ohio, and of navigating the equally complex path toward finding their true self in New York City. Exploring childhood, gender, race, and the trust that is built, broken, and repaired through generations, Ziyad investigates what it means to live beyond the limited narratives Black children are given and challenges the irreconcilable binaries that restrict them.
Heartwarming and heart-wrenching, radical and reflective, Hari Ziyad's vital memoir is for the outcast, the unheard, the unborn, and the dead. It offers us a new way to think about survival and the necessary disruption of social norms. It looks back in tenderness as well as justified rage, forces us to address where we are now, and, born out of hope, illuminates the possibilities for the future."
"On January 21, 2008, a routine medical procedure left Mallory Weggemann paralyzed from her waist down. Less than two years later, Mallory had broken eight world records, and by the 2012 Paralympic Games, she held fifteen world records and thirty-four American records. Two years later a devastating fall severely damaged her left arm, yet Mallory refused to give up. After two reconstructive surgeries and extended rehab, she won two golds and a silver at the 2019 World Para Swimming Championships. And perhaps most significantly, she found confidence, independence, and persevering love as she walked down the aisle on her wedding day.
Mallory's extraordinary resilience and uncompromising commitment to excellence are rooted in her resolve, perseverance, and sheer grit. In this remarkable new book, Mallory shares the lessons she learned by pushing past every obstacle, expectation, and limitation that stood in her way, including the need to:
redefine limitations;
remember that healing is not chronological;
be willing to fail;
and embrace your comeback.
Mallory's story reminds us that whatever circumstances we face, we have the capacity to face down whatever challenges, labels, or difficulties confront us–and to do so on our own terms."
"In 1967, Coffee, Tea, or Me? The Uninhibited Memoirs of Two Airline Stewardesses captured the world's imagination with tales of amorous adventures. Decades later, Donald Blain revealed that as a publicist for American Airlines, he actually wrote the book and its sequels, and two female flight attendants were hired to pose as the authors for book tours. Although the stunt sounds like something from "Mad Men," readers fell for it hook, line and sinker, casting an indelible reputation on the profession.
"The industry saw no reason not to capitalize on male fantasy," writes Julia Cooke in the fascinating Come Fly the World: The Jet-Age Story of the Women of Pan Am. Cooke has created a sweeping account of not only the airline industry and its cultural history but also women's evolution in the workforce. She blends an overview of the job with the personal stories of several (real!) flight attendants, dispelling ludicrous myths and showing how Pan Am presented adventurous, curious women with a way to see the world at a time when their opportunities were limited.
Stewardess positions were so coveted in the 1960s that in 1968, over 266,000 women applied for 12,000 spots in the American airline industry. Many of these young women, such as biology major Lynne Totten from upstate New York, saw the job as an exciting chance to try something new. Years later, when a male passenger spotted Totten reading an issue of Scientific American, he suggested that Vogue might be a better choice. She quickly set him straight, but Totten was hardly an anomaly. As Cooke points out, "throughout the 1960s, 10 percent of Pan Am stewardesses had attended graduate school at a time when only 8 percent of American women had graduated from college."
Despite the unparalleled opportunities offered by Pan Am, these stewardesses had to pave their own way, fighting against weight and height limits, age ceilings, marriage bans, racism and other glass ceilings that prevented them from being offered management positions.
An entertaining and informative narrator, Cooke has a big story to tell and excels at painting her panorama in broad strokes. At times, however, readers may find themselves wishing for a few more anecdotes, as well as more direct quotations from the women she profiles. Nonetheless, many of her accounts are memorable, especially those involving Pan Am's flights to Vietnam, which Cooke covers extensively and in which young American men reading Archie comics were dropped off, many to never return.
Come Fly the World is an eye-opening account of female flight attendants' successes and struggles in the not-so-distant past."