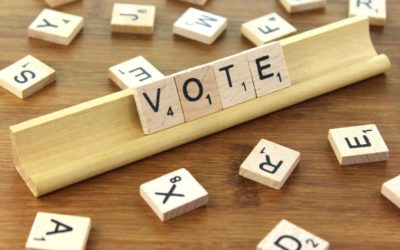 Did you know that September 25th is National Voter Registration Day? Through partnership with vote.org, we're bringing you these tools to make sure you're registered to vote! <iframe...
read more
"Identical twins Laurel and Daphne Wolfe, both named for the same minor Greek goddess, shared everything: a womb, a language known only to themselves, the red hair that set them even further apart from their peers (only 2% of the world's population are gingers, less than the 3.3% that are twins). They also share a love of English that (and they would adore the irony) cleaved them together as much as it cleaved them apart.
Long before their first adolescent stirrings, the pair fell head-over-heels for words. Daphne amassed rare ones (rebarbative, hendiadys, aposiopesis) in her notebook, the same way other kids collect sea glass or baseball cards. Laurel looked them up in their father's massive Merriam Webster's Second Edition. They played with words, quarreled over words, used words as both rapier and armor.
Author Cathleen Schine is a keen student of both language and families, and The Grammarians calls to mind the likes of Nora Ephron or Joan Didion. It's not every verbal stunt pilot that can bring a mid-novel excursus about the differences between Webster's Second and Third editions to a safe landing.
As for the sisters, Schine renders a note-perfect portrait of how shared DNA can foster a ferocious internal rivalry, while it renders the pair nearly impervious to attack from the outside world. When the big rift does descend, it's a proxy war but devastating nonetheless: prescriptive grammar versus descriptive, Fowler's Dictionary of Modern English Usage versus The Chicago Manual of Style. Daphne's somewhat hectoring grammar column, "The People's Pedant," has found a modest but passionate audience, and it puts her on the obverse side of a coin with sister Laurel, whose poetry celebrates the authenticity of those for whom grammar doesn't really exist. Words are exchanged, but fewer and more rarely. As they say, the reason that our families can push our buttons is because they're the ones who installed them.
The big question becomes whether there is a dictionary sufficiently large and complex to contain the words that Laurel and Daphne need to build a bridge back to one another, or whether they will remain like their identical DNA, a double helix whose twin coils never really meet."
"In 1988, when she was 8 years old, Dina Nayeri and her younger brother fled Iran with their mother, a doctor, who had received death threats from the government's moral minders because of her activism as a Christian convert. They went first to Dubai, then were refugees in Italy before being granted asylum in the U.S. and arriving in Oklahoma.
One of the most illuminating sections of the book is called "Camp." In 2017, seeking to revisit her own experiences of exile, Nayeri volunteered in a refugee camp in Greece, where she served and talked to many refugees. It wasn't all bleak. "People think of a refugee camp as a purgatory, a liminal space without shape or color. And it is that. But we kept our instinct for joy," she writes. Still, it was a place of soul-destroying indignity and waiting. Refugees aren't allowed to work. They're not welcome at local schools. Young men entertain themselves by fighting.
Then there are the government bureaucracies that certify some refugees' stories as "believable" enough for asylum and others not so much. Through her narrative, Nayeri makes vividly clear the Catch-22 of the process, especially for those asylum-seekers who are poorer, less educated and more desperate.
Nayeri is not really an ungrateful refugee, as her title suggests. She writes about how as a youth she was driven to excel in order to escape her identity as a refugee. She went to Princeton, Harvard and the Iowa Writers' Workshop. But, as she points out, refugees are expected to be grateful in ways that deny their experience of loss, of leaving a place or a family they deeply love. In Oklahoma, for example, Nayeri realized that her education in Iran had been far better and more rigorous than her classes in the local school. Yet she was expected to say everything here was better. It wasn't."
"It's February in New York, and Noah Selvaggio is packing for an 80th birthday trip to Nice, France, where he was born. He hasn't been to Nice since age 4, when his mother, Margot, sent him to live with his father in America. She stayed behind to care for her own father, a famous photographer, in the later years of World War II.
Noah married Joan, a fellow chemist, and they remained together for almost 40 years until her recent death from cancer. When Noah went through the belongings of his recently deceased younger sister, he found nine black-and-white photos from the 1930s and '40s. Noah suspects that Margot had printed them herself. Part of the reason for his trip to Nice is to learn more about his mother and the places depicted in her pictures.
But before he leaves, he gets a call from Children's Services asking him to be temporary guardian for Michael, his 11-year-old great-nephew. Michael's father, Victor, is dead from an apparent overdose, and his mother is in jail. Noah is the closest available kin. Reluctantly, Noah agrees to take Michael, an ill-mannered potty-mouth fond of violent video games, on his journey.
What follows is an emotionally trying trip to France, with Noah struggling to keep Michael out of mischief as he pieces together the puzzle of the photographs, which suggest that Margot may have had greater involvement in the war than anyone in the family ever knew."
Click here for availability – Large Print 
"As a girl growing up in Canada, Heinerth decided she wanted to learn to dive as soon as she saw Jacques Cousteau on TV. That's despite the fact that one of her earliest memories is of nearly drowning and that she failed her first swimming lesson—because she was, of course, so busy floating and gazing intently at the underwater world that she didn't bother to attempt any strokes. As a young woman, she sold a successful advertising business in Toronto and bought a ticket to the Cayman Islands in hopes of becoming a diver, shocking family and friends.
Her wild gamble paid off, and Heinerth has spent the rest of her life "swimming through the veins of Mother Earth," as she calls it, delighting in the wonders of ice-filled caves beneath Siberia's Ural Mountains and lava tubes inside a Spanish volcano.
Such wonders and achievements have not come without dramatic, dire sacrifices, particularly as a woman in a testosterone-heavy field. A number of close friends have perished in diving accidents; she has repeatedly helped with the heartbreaking task of body recovery. After she suffered a severe case of the bends, a doctor advised Heinerth to "never dive again," which she ignored. She narrowly escaped death several times amid the caves and crevices of an Antarctic Circle iceberg, all while suffering a leaky glove in the icy 28–degree waters, just one-tenth of a degree away from the freezing point of salt water. After her narrow escape, she commented, "The cave tried to keep us today." Hours later, as she and her team were preparing to dive yet again, they watched the iceberg completely collapse, which would have meant certain death had they been in the water. "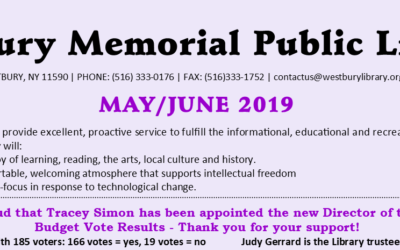 Our May/June 2019 newsletter is now available! View our Upcoming Programs page, or view the PDF directly! Registration for Westbury and Carle Place residents begins April 29, 2019. Don't forget to check out our Children's Programs as well
read more