Effective March 17, 2020, UNTIL FURTHER NOTICE, the Library will be closed to the public.
We will continue to monitor local, state, federal, CDC, and WHO guidelines and will keep you abreast of all pertinent information. We appreciate everyone's patience during these trying times.
Budget Vote: Postponed
Our Budget Hearing and Vote have been postponed. The new dates are as follows:
– Budget Hearing: June 16, 2020 at 7:00 pm
– Budget Vote: June 23, 2020 from 9:00 am – 9:00 pm
We will continue to keep you updated and thank you for your patience and understanding.
Keep an eye out for more information about our 2020 budget.
Welcome to our spoiler-iffic Sorcerer's Stone post!
This post is for readers who have finished the series and are using this opportunity to revisit Hogwarts. If you have not read ahead, please wait to read the rest of this post. Questions, polls, comments, etc. may expose you to important plot points, and if you've only read the first book, it's too soon!!
In the comments we want to know:
What did you notice in this book that comes back later? For example, Hagrid uses Sirius Black's motorcycle on the day Harry was brought to the Dursley's. 
Where does Prof. Quirrell rank among Defense Against the Dark Arts teachers?
Could the characters have done anything differently in this book that would have affected the outcome of the series?
Have your feelings about any of the characters we meet in Book 1 changed based on how they develop throughout the series? 
Specifically:
How do you feel about Severus Snape?
Let us know in the comments if you have any ideas for a poll
We ask library patrons under 13 to participate in these discussions with adult supervision. We would like to encourage families to incorporate discussion questions into their at-home book chats. This post is for discussing overarching theories and ideas, and for connecting what happens in this book to events in future installments. Spoil away.
Please be respectful.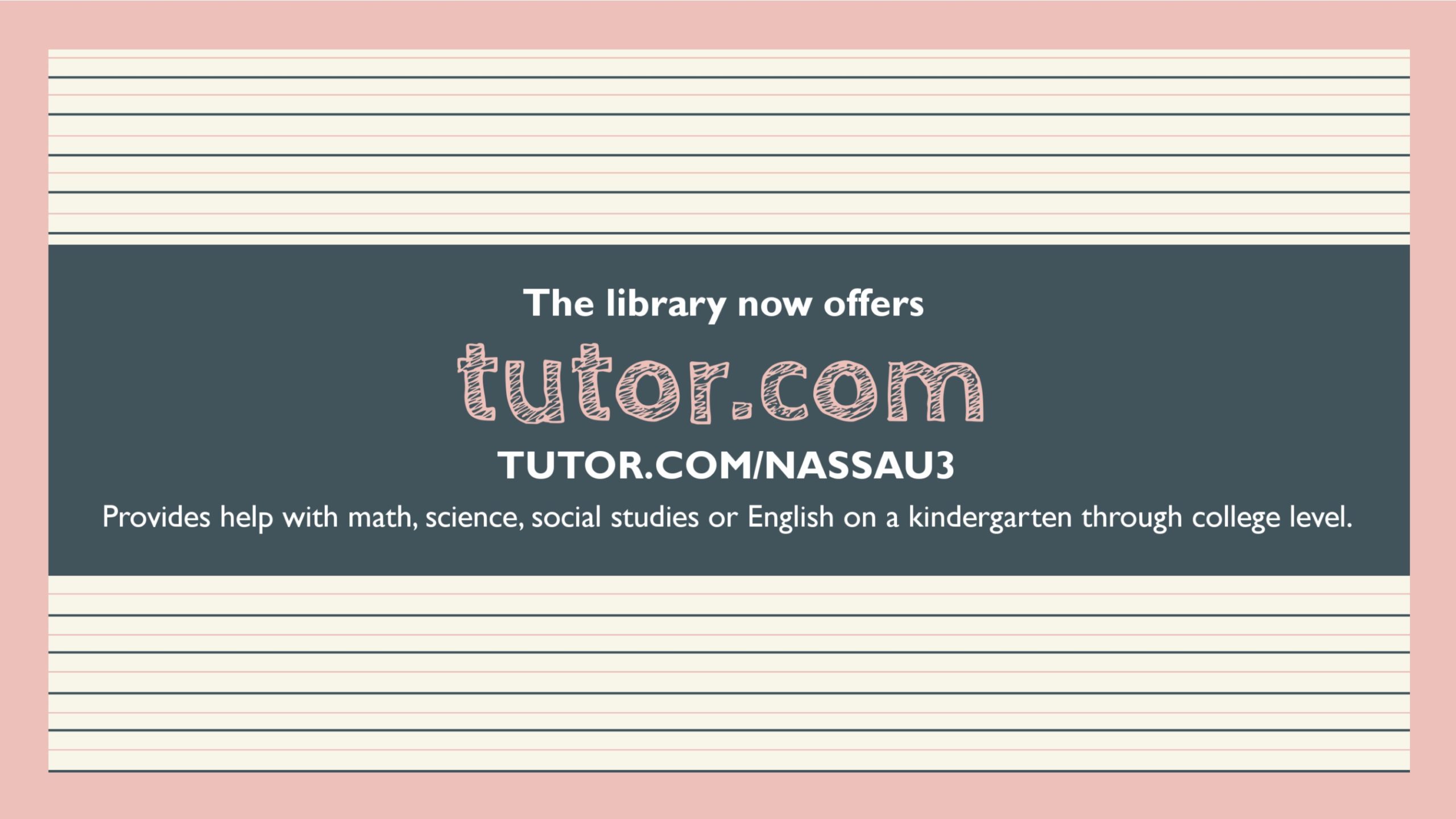 Highlight: Databases
Tutor.com provides help with math, science, social studies or English on a kindergarten through college level.
Check out Tutor.com, or browse our many free databases!
"It was a time, much like today, when Americans feared for the future of their democracy, and women stood up for equal treatment. At the crossroads of the Watergate scandal and the women's movement was a young lawyer named Jill Wine Volner (as she was then known), barely thirty years old and the only woman on the team that prosecuted the highest-ranking White House officials. Called "the mini-skirted lawyer" by the press, she fought to receive the respect accorded her male counterparts―and prevailed.
In The Watergate Girl, Jill Wine-Banks opens a window on this troubled time in American history. It is impossible to read about the crimes of Richard Nixon and the people around him without drawing parallels to today's headlines. The book is also the story of a young woman who sought to make her professional mark while trapped in a failing marriage, buffeted by sexist preconceptions, and harboring secrets of her own. Her house was burgled, her phones were tapped, and even her office garbage was rifled through.
At once a cautionary tale and an inspiration for those who believe in the power of justice and the rule of law, The Watergate Girl is a revelation about our country, our politics, and who we are as a society."
"How have American women voted in the first 100 years since the ratification of the Nineteenth Amendment? How have popular understandings of women as voters both persisted and changed over time? In A Century of Votes for Women, Christina Wolbrecht and J. Kevin Corder offer an unprecedented account of women voters in American politics over the last ten decades. Bringing together new and existing data, the book provides unique insight into women's (and men's) voting behavior, and traces how women's turnout and vote choice evolved across a century of enormous transformation overall and for women in particular. Wolbrecht and Corder show that there is no such thing as 'the woman voter'; instead they reveal considerable variation in how different groups of women voted in response to changing political, social, and economic realities. The book also demonstrates how assumptions about women as voters influenced politicians, the press, and scholars."
"Distinguished historian Ellen Carol DuBois begins in the pre-Civil War years with foremothers Lucretia Mott, Elizabeth Cady Stanton, Susan B. Anthony, and Sojourner Truth as she explores the links of the woman suffrage movement to the abolition of slavery. After the Civil War, Congress granted freed African American men the right to vote but not white and African American women, a crushing disappointment. DuBois shows how suffrage leaders persevered through the Jim Crow years into the reform era of Progressivism. She introduces new champions Carrie Chapman Catt and Alice Paul, who brought the fight into the 20th century, and she shows how African American women, led by Ida B. Wells-Barnett, demanded voting rights even as white suffragists ignored them.
DuBois explains how suffragists built a determined coalition of moderate lobbyists and radical demonstrators in forging a strategy of winning voting rights in crucial states to set the stage for securing suffrage for all American women in the Constitution. In vivid prose DuBois describes suffragists' final victories in Congress and state legislatures, culminating in the last, most difficult ratification, in Tennessee.
DuBois follows women's efforts to use their voting rights to win political office, increase their voting strength, and pass laws banning child labor, ensuring maternal health, and securing greater equality for women.
Suffrage: Women's Long Battle for the Vote is sure to become the authoritative account of one of the great episodes in the history of American democracy."
Nominating Petition for the Westbury Memorial Public Library Board of Trustees Download: Nominating Petition in English Petición nominativa en español
read more
All March movies have been cancelled until further notice. We will keep you updated on any new information going forward.