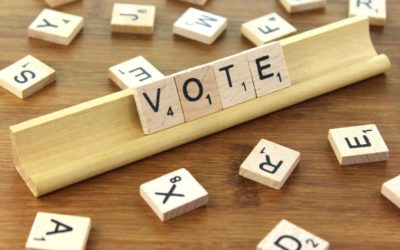 Did you know that September 25th is National Voter Registration Day? Through partnership with vote.org, we're bringing you these tools to make sure you're registered to vote! <iframe...
read more
  "It's the story of Toby Fleishman, an Upper East Side hepatologist (think liver expert at a prestigious New York hospital) who is in the midst of a bitter divorce after a 14-plus-year marriage to his wife, Rachel, a driven, incredibly successful owner of a high-end talent agency. She runs with a crowd that earns so much more than Toby's mere quarter-million dollars a year that they basically view him as a pauper. It's Toby who has sued for divorce.
In one of the comedic, thought-provoking reversals this novel deploys so adroitly, Toby is the primary caregiver for their two children—Hannah, age 11, and Solly, age 9. During the summer weeks when this story unfolds, the couple has the customary child-sharing arrangement: Toby will take these days and Rachel the others. But Rachel suddenly disappears and is nowhere to be found. Toby is left in the role of full-time caregiver just when the possibility of career advancement and his dating life as a 40-something divorced man are taking off. How then to respond to a conflict between responsible parenthood, the demands of career and the allure of the sexually charged online dating scene?
In exploring Toby's dilemma, Brodesser-Akner doesn't miss the opportunity to examine the state of contemporary divorce and the weird culture of post-divorce dating."
"In The Lager Queen of Minnesota, J. Ryan Stradal ventures back into the kind of kitchen that made his debut, Kitchens of the Great Midwest, a success—and from there into the ever-evolving world of beer culture. Early on, the reader gets the sense that sisters Edith and Helen Magnusson were not particularly close during their youth, and that condition is dramatically exacerbated when their inheritance favors one over the other. Hopscotching back and forth between the sisters' stories over the years, Stradal lays out the triumphs and tragedies that have kept the siblings apart, as well as the story of the granddaughter/great-niece who might be their bridge to reconciliation.
Elder sister Edith comes across as an archetype of Midwestern sense and sensibility: modest, hard-working, self-deprecating, stoic and just a bit too straight-laced to enjoy life to the fullest. When her pies are touted in the press as the best in the state, she regards the ensuing notoriety as a distraction, if not an impediment. Helen, on the other hand, plays grasshopper to her sister's ant and revels in her ability to transform her parents' estate into a brewery that markets "the second-bestselling Minnesota-brewed beer in Minnesota." Her husband, in a moment of inspiration, crafts the tag line that propels the brand to stardom: "Drink lots, it's Blotz." But as fans of Falstaff, Rheingold, Schmidt, Esslinger's, Jax and others have ruefully noted, chilled and frothy heads oft turn warm and flat, and the fictional Blotz goes plotz.
With decades of silence and unspoken resentment separating Edith and Helen, it may take something stronger than a stein of stout to reunite them, and Stradal artfully keeps the suspense brewing for over 300 pages."
"Narrated by a foulmouthed, Cheetos-loving pet crow named S.T., the story starts in Seattle, Washington, where a terrible virus has turned all humans into zombies. When S.T.'s owner, Big Jim, succumbs to the virus' effects, S.T. leaves the only home he has known to find some answers and possibly a cure. What he learns, however, is gut-wrenching. The human race as he knew it has ceased to exist, destroyed by their own addiction to technology. What now roams the earth are not humans but rather highly mutated and heinous creatures whose only purpose is to destroy.
World annihilation doesn't necessarily make for a fun read, except perhaps when told by a domesticated crow that has watched a lot of TV and thinks himself half-human. Equally fascinating is the odd squad of dogs, cats and other birds who have joined S.T. in this post-apocalyptic odyssey. There might not be humans or the world wide web anymore, but that doesn't really seem to matter, as Buxton does a stellar job of anthropomorphizing the novel's animals and adding drama, suspense, tragedy and hope. It's amazing that such a bizarre and far-fetched story can connect so deeply with our reality and its discussions about social media, climate change, immigration and self-identity."
"George Remus legally defended bootleggers. Then he decided to become one. His outrageous scheme involved circulating whiskey from distilleries (that he owned) to pharmacies (that he owned) and, along the way, being robbed by bandits (whom he employed). His flashy second wife, Imogene Holmes, helped him run the ever-growing empire. They bought a mansion. They threw parties. They lived lavishly. Behind the frenetic lifestyle of this German-immigrant-turned-millionaire was an unquenchable thirst, not for whiskey (he was a teetotaler) but for acceptance and admiration.
When Holmes betrayed Remus by starting an affair with the prohibition agent Franklin Dodge, Remus began to exhibit signs of madness. These "brainstorms" culminated in murder: Remus shot Holmes at point-blank range. The following trial captured the attention of the country. Remus, ever hungry for the limelight, defended himself and pleaded "transitory insanity." By the end, his fortune was gone.
In The Ghosts of Eden Park, Karen Abbott tells the story of Remus' rise and fall with a novelist's eye, and incredibly, every line of dialogue is taken directly from a primary source. Without embellishment or overt psychologizing, she pulls readers into the kaleidoscopic world of Jazz-Age America, full of flappers and whiskey parties, boisterous criminals and crooked government agents. Though Remus seemed unstoppable, he met his match in Mabel Willebrandt, a U.S. attorney and staunch feminist who was determined to bring him down."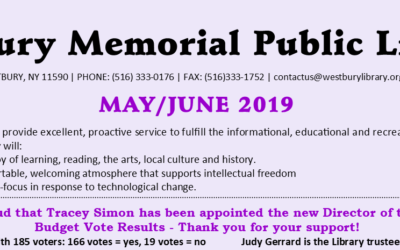 Our May/June 2019 newsletter is now available! View our Upcoming Programs page, or view the PDF directly! Registration for Westbury and Carle Place residents begins April 29, 2019. Don't forget to check out our Children's Programs as well
read more