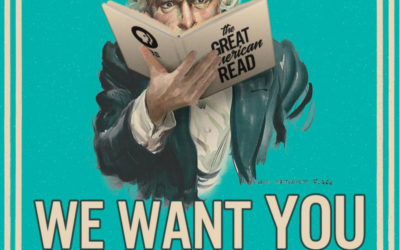 WMPL is inviting the community to help us vote in The Great American Read! Come into the library and check out our book display featuring a selection of some of the 100 books America loves the most. Cast your vote and when it's finished, we'll know not only which book...
read more
"Washington Black, a Bajan 11-year-old slave on a sugar plantation whose life is forever changed when he is removed from hard labor and "loaned" by his owner to Christopher "Titch" Wilde. Titch is an eccentric naturalist, inventor and abolitionist who initially wants the young Washington to serve as ballast in his experiments with hot air balloons.
Washington turns out to be a gifted artist and naturalist himself. The two develop a fraught relationship that takes them from Barbados to the Arctic and the deserts of Morocco until Washington ultimately gains his freedom. Told from Washington's point of view, the novel examines both what it means to be truly free and the complex power dynamics of its central relationship."
 En el País Que Amamos: Mi Familia Dividida por Diane Guerrero
Nacida en los Estados Unidos, actriz Diane Guerrero se recuerda del día que descubrió que sus padres fueron deportados a Colombia cuando ella estaba en escuela.Esta memoria, lleno de emoción y dolor, reflecta los problemas de residentes indocumentados de este país. Diane, con apoyo de amigos, logro a encontrar el sueño americano y la voz para pelear para los derechos de inmigrantes.
Haga clic aquí para ver si está disponible
In The Country We Love: My Family Divided by Diane Guerrero
Born in the United States, actress Diane Guerro is reminded of the day she discovered that her parents were deported to Colombia when she was in school.This memoir, full of emotion and pain, reflects the problems of undocumented residents of this country. Diane, with the support of friends, managed to find the American dream and the voice to fight for immigrant rights.
"Relying on meticulous research, Emre reveals the vulnerable mindset of young housewife Briggs when she happened upon Carl Jung's psychological theories in the 1920s. Inspired by Jung's theories—but with no real psychological credentials and a background in fiction writing—Briggs and her daughter obsessively attempted to sort everyone in their lives into categories using a multiple-choice questionnaire they created.
It was truly an obsession, Emre shows, and one that didn't stop with the Myers-Briggs family. On the contrary, the Myers-Briggs type theory was used to analyze everything from the dire economic situation of the 1930s to Hilter's personality. It informed the first employment tests, and it may have influenced the beginning of the arms race in the 1950s. Indeed, type theory has never gone out of fashion and is still incredibly popular today, fueling a multi-billion-dollar industry. Emre engagingly follows all of these paths to illustrate the deep and broad impact one test has had on people the world over."
The Great Give Back provides a day of opportunities for the patrons of Long Island libraries to participate in meaningful, service-oriented experiences. To support this cause, the Westbury Memorial Public Library will be hosting an all-day food collection drive for...
read more