The library will be closed for Memorial Day Weekend: May 25, 26 & 27.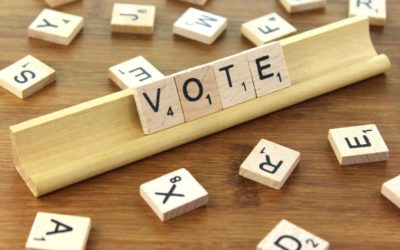 Did you know that September 25th is National Voter Registration Day? Through partnership with vote.org, we're bringing you these tools to make sure you're registered to vote! <iframe...
read more
"The American dream has always been conditional for this country's marginalized peoples. For young, undocumented Mexican mother Aida Hernandez (not her real name, for reasons of protective anonymity), the U.S. immigration system exposed the cruelties and complexities of what it really means to be free.
Aida was born and raised in Agua Prieta, Mexico. After her mother endured years of physical abuse, she left her husband, Aida's father, and set out for the border town of Douglas, Arizona, with 9-year-old Aida and her two other daughters in tow. But Aida's mother's next partner echoed the patterns of abuse. As Aida grew up, the turbulent and unpredictable nature of her mother's relationships added to the micro and macro challenges that accompanied living as an undocumented citizen. As a result, Aida's inner world reflected the chaos of her unstable adolescence.
While Aida's story is not meant to serve as the sole representation of life as an undocumented immigrant, it's a sharp portrait of a country where equality is designed only for those deemed worthy."
"On a cold January morning in 1986, everything changes for Nedda Papas, an 11-year-old science geek and astronaut fangirl. Ten miles from Easter, their small Florida town, the space shuttle Challenger lifts off and explodes. Soon, strange things happen: Electricity surges and fails, ponds freeze and boil, the sky takes on a green glow. At first, Easter's residents chalk up the weirdness to the Challenger explosion, but Nedda and her dad, Theo—a physicist who's been laid off from NASA—begin to suspect otherwise. Theo and his wife, Betheen, both grieving a loss, have begun to live separate lives. Theo works obsessively on a project he calls his entropy machine, while Betheen, a frustrated scientist, has devoted herself to her baking business, cutting herself off emotionally from her husband and daughter.
The novel alternates the 11-year-old Nedda's story with that of the grown Nedda, who's narrating from aboard the spaceship Chawla. The adult Nedda is part of a crew of four on a long-term mission to an unnamed planet, and the crew has learned that power spikes have affected the ship's generator. As Nedda and her crewmates work to head off disaster, so does the 11-year-old Nedda, along with Theo and Betheen."
"Purnell's subject is Virginia Hall, the daughter of a proper Maryland family, who sought to elude her mother's social control and embrace her own desire for an adventurous life by applying with the U.S. State Department. But despite superior language skills and test results, Hall found herself stuck in low-level clerical jobs as result of the era's ingrained sexism.
Hall was stationed as a clerk in Turkey when a hunting accident resulted in the loss of her left leg. Despite near-fatal blood infections and the pain of walking with a prosthetic, Hall later volunteered as an ambulance driver for the French army in 1939. Her bravery and passion for France made her an attractive recruit for Britain's Special Operations Executive, the secretive spy organization given the nod by Winston Churchill to fight the Nazis through James Bond-style espionage. Embedded in Nazi-occupied France, Hall helped organize the French Resistance in ways so ingenious and suspenseful that her previously untold story has recently been optioned for film.
Although documentation of the French Resistance movement exists only in fragments, Purnell ably draws on a variety of sources to create a suspenseful, heartbreaking and ultimately triumphant tale of heroism and sacrifice."
"Wracked with grief over an accident that befell his wife three years previously, Robert Highstead has cut himself off from his family and turned his back on his writing, instead devoting himself to photographing the dead as one final memento for their family members. Incapacitated by sorrow, Robert remains ensconced in the past, one in which he and his wife are still madly in love with each other. But when Robert's brother reaches out and requests that he head to the wilds of Shropshire to deliver the body of their cousin, the famed poet Hugh de Bonne, Robert finds himself powerless to refuse. Hugh's last request was that his remains be buried beside his own wife, Ada, and that he be photographed alongside his niece and heir, Isabelle Lowell, in a dazzling glass chapel built in Ada's memory. When Robert arrives at his cousin's estate, however, he receives a prickly reception from Isabelle, who holds the only key to the chapel. In no uncertain terms she tells him that Hugh will never be allowed entrance to the chapel and that Robert is wasting his time. Finally the two strike a deal: Over the course of five evenings, Isabelle will relate Ada's story, and Robert will transcribe it. Only after the story is completed will Isabelle open the chapel, and the many ghosts tethering both her and Robert to the past can finally be laid to rest."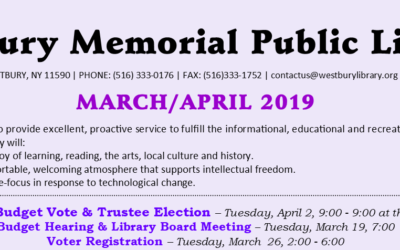 Our March/April 2019 newsletter is now available! View our Upcoming Programs page, or view the PDF directly! Registration for Westbury and Carle Place residents begins February 25, 2019. Don't forget to check out our Children's Programs as well!
read more