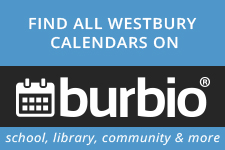 Dear patrons, We are excited to announce a great service that will allow you to easily keep track of everything going on in Westbury! Burbio.com is a FREE website and app that puts school, library and other local events all in one calendar. You can create a...
read more
"The novel follows a family of three grown sisters after Althea, the oldest sister and the family matriarch, is sent to jail along with her husband. Her sisters, Viola and Lillian, must rise to the occasion to care for Althea's twin daughters. While each woman battles demons of her own, they take turns carrying the story, each adding a beautiful and vivid layer to the plot as the narrative torch is passed.
Viola, the middle sister, struggles with the eating disorder that has plagued her for years. As she contemplates whether or not she has what it takes to raise her teenage nieces, she's also trying to reconcile her own marriage. Lillian, the youngest, has tenaciously held onto and restored her family's old house, a place where she experienced profound pain and loneliness during her adolescence. She has a history of taking on the responsibilities of other people's families: Along with Althea's twin daughters, Lillian cares for her late ex-husband's grandmother, Nai Nai. Althea's twins are as different as sisters can be and have dealt with the fallout of their parents' incarceration in vastly different ways. When Kim, the more headstrong of the twins, goes missing, Lillian and Violet must band together to bring her home.
The fourth narrator is Proctor, Althea's husband, whose capacity for love is apparent in his letters to his wife. Through these letters, Proctor offers a subtle but brilliant contrast to the women's internal monologues. Through these intimate perspectives, the family becomes a breathing entity, giving space to peripheral characters such as the parents (both deceased) and the brother, a troubled teen turned preacher."
"Tracker, James' narrator, is a man without a true name, a man who seems to walk in the margins of society after a difficult childhood turned him into a loner. Still, he is renowned for his "nose," the ability to search for and find lost things with uncanny skill, and so he is called into service to search for a vanished boy. To find the boy, he must also attempt a rare collaboration, teaming up with a strange band of characters, among them a shapeshifter known as Leopard. As the hunt begins and Tracker tells his tale, he must explore not only the significance of the boy he's searching for but also the nature of truth itself.
Tracker's voice—rendered in visceral, evocative prose—is immediately seductive, from his colorful use of profanity to the way he describes not just what happens to him but also how the perception of it all can shift in a moment. It's the kind of voice that can carry you anywhere, and James puts it to good use, propelling the reader forward into an African fantasy landscape that rivals the greatest sword-and-sorcery storytellers in the history of the genre. The ambition is familiar, but the places James takes us are not, and that's an irresistible combination."
"A new collection of essays and speeches from Nobel Prize winner Toni Morrison solidifies her legacy as one of America's most thoughtful and important writers. Toni Morrison is such a peerless, masterful storyteller that it is easy to forget she is also one of our most engaged and engaging public intellectuals. Her new collection of essays and speeches, The Source of Self-Regard, reminds us of the breadth and depth of her concerns. Morrison ruminates on and illuminates the political, racial, social and literary issues that have long informed her work with a singular combination of curiosity and confidence."
"Hollywood, 1938: As soon as she learns that M-G-M is adapting her late husband's masterpiece for the screen, seventy-seven-year-old Maud Gage Baum sets about trying to finagle her way onto the set. Nineteen years after Frank's passing, Maud is the only person who can help the producers stay true to the spirit of the book—because she's the only one left who knows its secrets.
But the moment she hears Judy Garland rehearsing the first notes of "Over the Rainbow," Maud recognizes the yearning that defined her own life story, from her youth as a suffragette's daughter to her coming of age as one of the first women in the Ivy League, from her blossoming romance with Frank to the hardscrabble prairie years that inspired The Wonderful Wizard of Oz. Judy reminds Maud of a young girl she cared for and tried to help in South Dakota, a dreamer who never got her happy ending. Now, with the young actress under pressure from the studio as well as her ambitious stage mother, Maud resolves to protect her—the way she tried so hard to protect the real Dorothy."
Our January/February 2019 newsletter is now available! View our Upcoming Programs page, or view the PDF directly! Registration for Westbury and Carle Place residents begins December 17th, 2018.
read more