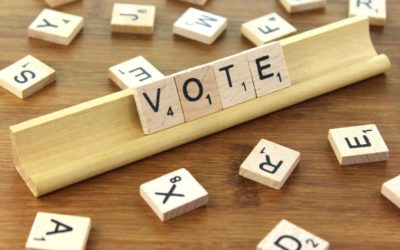 Did you know that September 25th is National Voter Registration Day? Through partnership with vote.org, we're bringing you these tools to make sure you're registered to vote! <iframe...
read more
"If you're like most people, it will conjure up images of icky green goo, pond scum or seaweed. But Kassinger will change your mind, taking an obscure topic that might seem boring, perhaps even gross, and making it fascinating and relevant. In her exhaustive research of the slimy microorganism, she crisscrosses the globe, interviewing people from all walks of life who have knowledge of and experience with algae, including psychologists (scientists who study algae), algae farmers, scuba instructors and even culinary experts. As Kassinger finds unique nuggets within algae's backstory and possible future, she unravels amazing, microscopic details of this vital resource."
"The Island, finds the 50-ish Reykjavík detective investigating the connections between two murders. One was supposedly solved 10 years past, and the second, a modern-­day killing, appears to have been an accidental fall—until ligature marks characteristic of strangling are identified on the victim's throat. The story of the first death is simple enough. In 1987, a girl and her soon-to-be lover go off to the fjords for a romantic weekend. It begins blissfully and ends with the girl lying dead on the floor of their summer home and the boy fleeing the scene. Her father is arrested for the crime and commits suicide while in custody. Open and shut, but there are some nagging suspicions. More than one person is aware that the presiding officer, something of a climber in the police department, tampered ever so slightly with the evidence. Fast-forward 10 years to 1997, and the dead girl's friends, including the aforementioned lover, go off to a remote island together for a reunion. One will not survive the outing, and Detective Inspector Hermannsdóttir will investigate, uncovering layer after layer of deceit. The Island was short-listed for Crime Novel of the Year Award in Iceland. Read it, and you will see why."
"As the novel opens, it's 1998, and Patsy is still in love with her childhood friend Cicely, who moved to America several years earlier. Patsy hopes to secure a tourist visa—her previous application was declined two years earlier with no explanation—and rekindle their romance. Soon, Patsy leaves Tru and Mama G, her religious mother who collects Jesus figurines, and flies to New York, where Cicely meets her at the airport.
Patsy's surprise upon reuniting with her friend is one of the many turns this novel takes. Cicely lives in a brownstone in the Crown Heights neighborhood of Brooklyn, is married to an abusive would-be real estate mogul and is raising a son Tru's age who takes violin lessons at a prestigious music academy. Over the next decade, Patsy fails to find the America—or the Cicely—of her dreams and has to settle for a job cleaning bathrooms in a faux-Jamaican restaurant before securing gigs as a nanny for a host of privileged women.
The story moves back and forth between Patsy's increasingly disheartening experiences in America and Tru's grim situation back home. Tru has to live with her father, Roy, a police officer she barely knows. As Tru enters her teens, she struggles with depression and her sexuality, all the while wondering why her mother has been gone for much longer than the promised six months and why she never calls."
"In the early 1970s, Francis Gleason, an immigrant from Ireland, and Brian Stanhope attend the New York City police academy together and are paired in field training. Francis quickly marries Anne, a nurse and Irish immigrant. Brian marries Lena, the daughter of Polish and Italian immigrants. Though their career trajectories are different, within a year or two, Francis and Brian end up as neighbors in a suburban town about 20 miles north of New York.
The families are not close. In fact, Anne is unstable and aggressively antisocial. But Brian and Anne's only son, Peter, and Francis and Lena's youngest daughter, Kate, develop an extraordinary bond. When Peter and Kate are in eighth grade, Anne commits an act of violence that rips both families apart."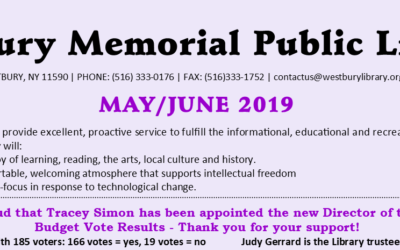 Our May/June 2019 newsletter is now available! View our Upcoming Programs page, or view the PDF directly! Registration for Westbury and Carle Place residents begins April 29, 2019. Don't forget to check out our Children's Programs as well
read more