We appreciate everyone's patience during these trying times. To reserve items, please call the Library at 516-333-0176
The Westbury Library Board of Trustees will be holding their next monthly board meeting on Thursday, April 15th at 7 pm
Or this phone number 1 646 558 8656 alongside this ID 948 6767 2055
The Westbury School District is holding weekly meetings updating the community on COVID-19. Please join them at this link every Thursday at 5:30 PM with any questions you may have.
Patrons of the Westbury library now have access to Hoopla. Hoopla allows users to digitally borrow books, videos, music, audiobooks, and more on their smartphones, computers, and tablets. More information can be found here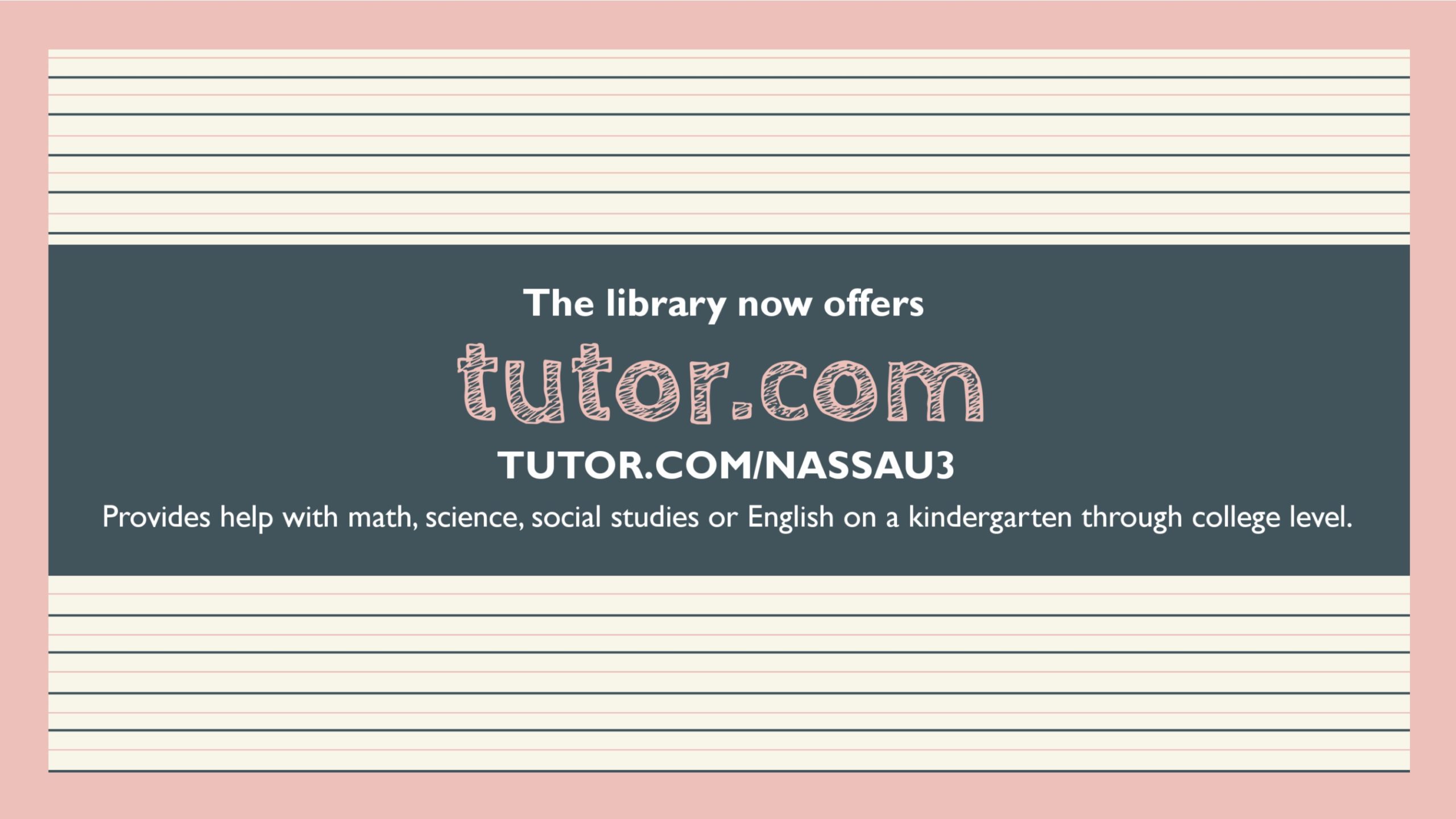 Highlight: Databases
Tutor.com provides help with math, science, social studies or English on a kindergarten through college level.
Check out Tutor.com, or browse our many free databases!
"In the ten years since he first met Nipsey Hussle in the offices of Vibe, journalist Rob Kenner followed Hussle's career, paying close attention to the music and business movement he was building in Los Angeles. Ten years later, they spoke again. To Kenner, it became clear that Hussle had been underestimated his entire life—not just for his artistry but also for his intellect and intentions.
For Nipsey Hussle, "The Marathon" was more than a mixtape title or the name of a clothing store; it was a way of life, a metaphor for the relentless pursuit of excellence and the willpower required to overcome adversity day after day. Hussle was determined to win the race to success on his own terms, and he wanted to see his whole community in the winner's circle with him.
Combining on-the-ground reporting and candid interviews with Hussle's friends, family, and peers, The Marathon Don't Stop traces the life and work of an extraordinary artist, placing him in historical context and unpacking his complex legacy. For the first time ever, members of his inner circle will speak about the man they knew and his determination to maintain integrity amidst the treacherous extremes of street life and the rap game.
The Marathon Don't Stop is a journalistic account of Nipsey Hussle's life and times, making sense of the forces that shaped a singular figure in hip hop culture."
"One of nineteen children in a blended family, Hari Ziyad was raised by a Hindu Hare Kṛṣṇa mother and a Muslim father. Through reframing their own coming-of-age story, Ziyad takes readers on a powerful journey of growing up queer and Black in Cleveland, Ohio, and of navigating the equally complex path toward finding their true self in New York City. Exploring childhood, gender, race, and the trust that is built, broken, and repaired through generations, Ziyad investigates what it means to live beyond the limited narratives Black children are given and challenges the irreconcilable binaries that restrict them.
Heartwarming and heart-wrenching, radical and reflective, Hari Ziyad's vital memoir is for the outcast, the unheard, the unborn, and the dead. It offers us a new way to think about survival and the necessary disruption of social norms. It looks back in tenderness as well as justified rage, forces us to address where we are now, and, born out of hope, illuminates the possibilities for the future."
"On January 21, 2008, a routine medical procedure left Mallory Weggemann paralyzed from her waist down. Less than two years later, Mallory had broken eight world records, and by the 2012 Paralympic Games, she held fifteen world records and thirty-four American records. Two years later a devastating fall severely damaged her left arm, yet Mallory refused to give up. After two reconstructive surgeries and extended rehab, she won two golds and a silver at the 2019 World Para Swimming Championships. And perhaps most significantly, she found confidence, independence, and persevering love as she walked down the aisle on her wedding day.
Mallory's extraordinary resilience and uncompromising commitment to excellence are rooted in her resolve, perseverance, and sheer grit. In this remarkable new book, Mallory shares the lessons she learned by pushing past every obstacle, expectation, and limitation that stood in her way, including the need to:
redefine limitations;
remember that healing is not chronological;
be willing to fail;
and embrace your comeback.
Mallory's story reminds us that whatever circumstances we face, we have the capacity to face down whatever challenges, labels, or difficulties confront us–and to do so on our own terms."